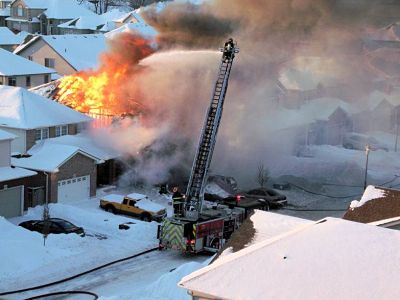 Overhead shot of Friday's fire on Alberta Ave. courtesy of Woodstock Fire Dept.
Alberta Ave. blast allegedly caused by cooking up drugs.
Woodstock Police are not saying what drug was allegedly being produced out of a house on Alberta Ave. that blew up last Friday.
But police have laid drug production charges against four people, including the residents of 598 Alberta Ave, 44-year-old Nicola Treszl and 26-year-old Harmeet Singh.
Two London residents, 25-year-old Jamal Ahmad and 23-year-old Hassan Jouda were also charged with production of a controlled substance.
Other charges include arson by negligence, arson with disregard for human life, and mischief endangering life.
Woodstock Deputy Police Chief Daryl Longworth says, "Our officers, along with the Fire Marshal's Office worked around the clock over the course of the weekend to put together what they have, to laying some charges and making some arrests. But there's still a lot of leg work to do to put this case together."
The alleged drug making operation in the home also put a lot of lives in jeopardy, according to Longworth, "The actions of these people not only put their own lives in dangers, they endangered the lives of the neighbours around them, the public at large, as well as the fire personnel that had to respond, the police personnel, the EMS...it's very serious and hopefully the courts will hold them accountable."
The blast killed one of two dogs that lived in the home, and hospitalized all four of the suspects. Two of them remain in hospital in London.
Police are holding back some information about the case, so not to jeopardize the case that will eventually go to court. OFM officials did indicate on the weekend an "unusual" number of butane tanks were found in the home. That evidence would suggest hash oil was being extracted from marijuana plants - an issue that has been making headlines recently in the US.
The case will surely have people thinking twice about what could be going on behind closed doors in their neighbourhoods. Longworth had a few suggestions on what people should be watching out for. "It could be a simple as a high volume of traffic coming in and out of the residents. Large amounts of garbage, or perhaps fuel canisters, things that normally wouldn't be showing up in a residential neighbourhood, that you see discarded in the backyard or in the garbage."
If people have suspicions about illegal or drug related activity in their neighbourhood, they should call their local police, or Crime Stoppers.