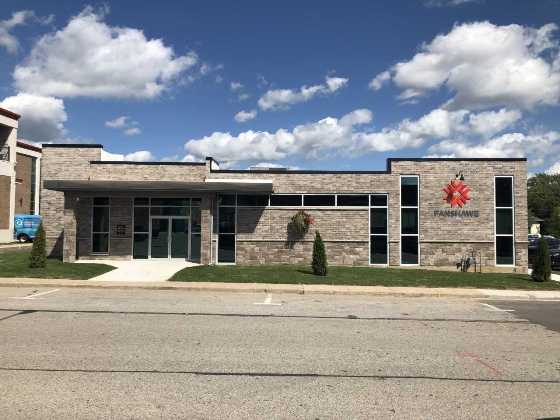 submitted photo
The Woodstock Fanshawe Regional Campus welcomed 40 students into their new building on Metcalfe Street on Monday.
WOODSTOCK - Fanshawe College has officially welcomed students to their new site on 45 Metcalfe Street in Woodstock.
About 40 students in the Continuing Education and Contract Training courses were the first ones to utilize the building on Monday. That number is expected to grow to more than 300 throughout the academic year as the College offers a selection of flexible learning options at the new Metcalfe Centre, part of the Woodstock/Oxford Regional Campus.
Manager of Continuing Education and Contract Training Lisa Wells says they are thrilled to open the doors to the new centre.
"Moving in downtown, especially given the proximity to Employment Services and other offices, means we're well positioned to meet the increased demands of a growing group of students seeking upgrading, career preparation and personal interest courses."
The building on Metcalfe Street was previously an LCBO store and has been transformed this summer for educational use. The 7,200-square-foot facility now has four high-technology classrooms and a multi-purpose conference room, freeing up much needed additional academic space for the campus at 369 Finkle Street. The centre employs four full-time and 10 part-time employees.
It will house part-time studies programming, provincial Literacy Basic Skills, Academic Upgrading and Contract Training Services. Wells says the new building will help to meet the needs of their students.
"Fanshawe continues to develop new programs and welcome more students from around the world, and our enrollment continues to grow. Our expansion into the new Metcalfe Centre helps us to keep providing the high level of service and education that our community has come to count on."
The College will host a grand opening celebration at 45 Metcalfe Street for invited guests on November 26, in conjunction with the Woodstock Chamber of Commerce. The Chamber will also hold its monthly Business After Five event at the centre that evening.
The centre is open from 8:30 a.m. to 6:30 p.m., Monday to Thursday, and from 8:30 a.m. to 4:30 p.m. on Friday. Guests and prospective students seeking more information can contact Fanshawe's Continuing Education and Contract Training services at 519-537-3540 or visit www.fanshawec.ca/Woodstock.