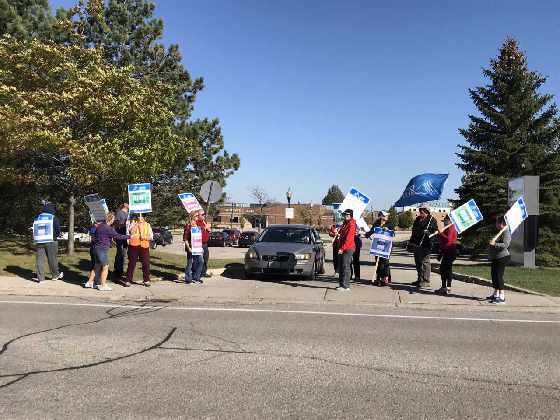 OPSEU is urging it's 12,000 faculty at Ontario's Colleges to reject the recent offer from the College Employer council.
Faculty and Students will most likely not be returning to the class room in the near future.
A forced vote, triggered by the Ontario Labour Relations Board has the union pushing for the faculty to reject the recent offer by the College Employer Council. Faculty will be electronically voting Tuesday through to Thursday in response to the offer.
President of local 110, Darryl Bedford says more bargaining needs to be accomplished.
"Time is running out, they need to come back to the table, take the concessions out, go with the items that we agreed to, prior to bargaining breaking off and lets get this done."
Bedford adds there are a number of reasons the faculty should reject the offer.
"The offer contains concessions, notably around the ability to refer to part time work definitions which will effect the way (Bill 148)- equal pay for equal work are implemented, issues how starting salaries are calculated as well as removal of limits of work load."
OPSEU believes if both parties were back at the bargaining table, they could reach a tentative agreement and members could return to work, with a ratification vote at a later time, Bedford says they don't have anything to recommend to members.
"We have to deal with this offer vote first, and after our members reject the offer, the College Employer Council should be back at the bargaining table with us, ready to bargain in good faith."
The strike of 24 Ontario Community Colleges is now in it's fifth week, and has affected over 500,000 students.