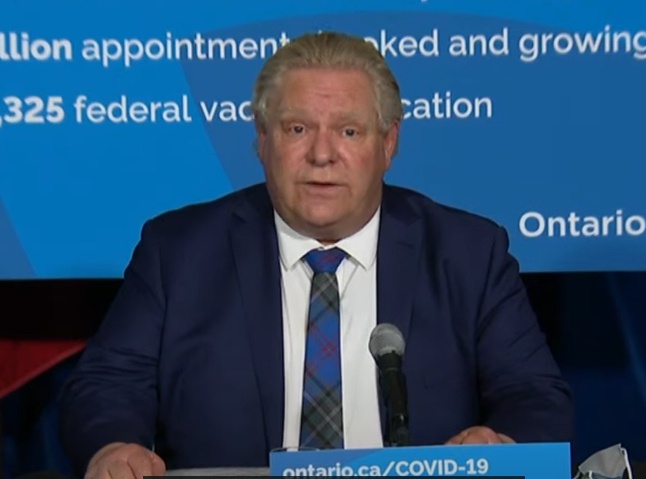 Retail stores must close for in person shopping and schools can stay open during the Stay at Home order.
ONTARIO - The Ontario Government has declared a State of Emergency and implementing a Stay at Home Order for the next four weeks starting at 12:01 am on Thursday.
The earliest the Province can open up is on May 8th. Schools will stay open during the Stay at Home Order, unless otherwise dictated by local health units.
The measures implemented starting tomorrow will be similar to the ones during the second lockdown that started on Boxing Day. The stay at home order means if you have the ability to work from home, you are required to do so.
Teachers in hot spot regions will be eligible to be vaccinated next week. This will start in Toronto and Peel and could be expanded to York, Ottawa, Hamilton, Halton and Durham if vaccine supply allows. The Province will also start vaccinating teachers who work with special needs children next week.
Grocery Stores and pharmacies will be allowed to have in person shopping. The LCBO and Beer Store locations in the Province will remain open.
Most Retail stores will be forced to close during the stay at home orders with the following guidelines:
- Limiting the majority of non-essential retailers to only operate for curbside pick-up and delivery between the hours of 7 a.m. and 8 p.m., with delivery of goods to patrons permitted between 6:00 am and 9:00 pm, and other restrictions;
- Restricting access to shopping malls to limited specified purposes, including access for curbside pick-up and delivery, via appointment, with one single designated location inside the shopping mall, and any number of designated locations outside the shopping mall, along with other restrictions;
- Restricting discount and big box stores in-person retail sales to groceries, household cleaning supplies, pharmacy items (pharmaceutical, health care and personal care items, and pet care supplies) only;
The Government will allow the following stores to have in person shopping by appointment only at 25 percent capacity between the hours of 7 am to 8 pm.
- Safety supply stores;
- Businesses that primarily sell, rent or repair assistive devices, aids or supplies, mobility devices, aids or supplies or medical devices, aids or supplies;
- Rental and leasing services including automobile, commercial and light industrial machinery and equipment rental;
- Optical stores that sell prescription eyewear to the public;
- Businesses that sell motor vehicles, boats and other watercraft;
- Vehicle and equipment repair and essential maintenance and vehicle and equipment rental services; and
- Retail stores operated by a telecommunications provider or service, which may only permit members of the public to enter the premises to purchase a cellphone or for repairs or technical support.
Outdoor garden centres and plant nurseries will be allowed to operate at 25 percent capacity. Golf courses will be allowed to stay open.
You can read the complete list of restrictions online here.
If you missed the Premier's opening remarks today, you can listen to them below: