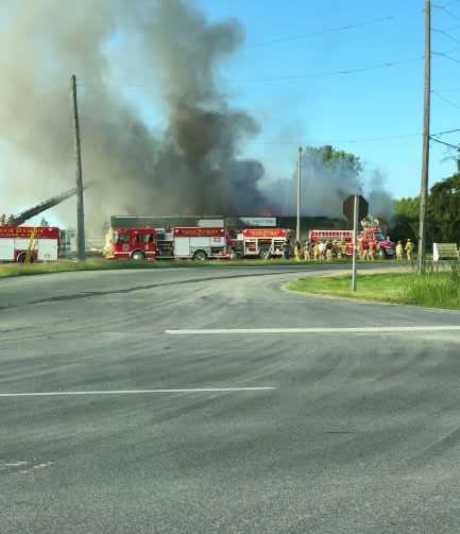 Fire Crews working to put out a massive fire at the former Stratford Antique Warehouse. (Photo Courtesy: OPP)
Update: The former Antique Mall in Stratford was supposed turn into a new Leon's store, with a grand opening set for September before yesterday's massive fire.
UPDATE:

STRATFORD - The former Antique Mall that went up in flames in Stratford yesterday was going to be a Leon's.
Roger Banghart, who owns the Leon's in Woodstock with his wife Catherine was hoping to have a grand opening in September. He says that this fire is going to be a huge setback for them.
"We likely won't be able to open the store for awhile, probably a year from now, I like to be optimistic but I also have to realistic and if it is better than a year, I will be happy, so right now I am going to say 1 year."
It looks like the fire was caused by an electrical hot spot. Banghart says he can't even imagine how tragic it could have been if the fire started when the Mall was still open.
"About 2 months ago when the Antique Warehouse was doing their Going Out of Business Sale, this place was packed, thank goodness it didn't happen then, because that would have been a catastrophe with the amount of people that were here. The Fire Marshall said they wouldn't of heard that fire crackling up in the roof, which is what it was doing when the first responders arrived. The timing was impeccably good, there was nobody here, it was a Sunday and nobody was hurt."
Banghart says that he and his wife were in complete shock when they heard the building was on fire, they rushed to Stratford and were heart broken to see what it looked like. He did want to thank the firefighters from all of the stations that responded and tried their best to save the building.
---
ORIGINAL STORY
STRATFORD - There were a lot of road closures surrounding the former Stratford Antique Warehouse as crews battled a massive fire in the building yesterday.
An area of the building had to be torn down with a backhoe to allow firefighter crews get access to smoldering sections.
The building had been closed down since May and has been undergoing renovations since new ownership by Roger Banghart of Leon's Furniture in Woodstock.
Impacting the situation was the lack of any fire hydrants in the area, forcing the fire fighters to use pump trucks to contain the flames.
There were no injuries, as the building was empty at the time of the fire. No word yet as to what caused the fire as it remains under investigation.