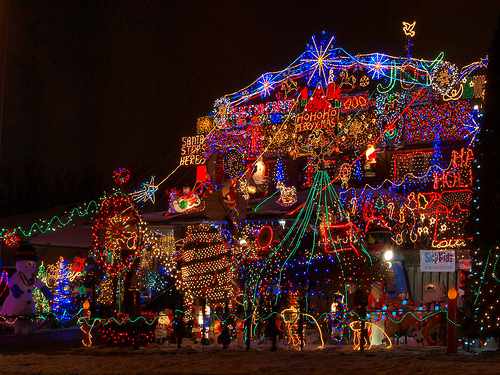 Operation Sharing will start collecting gift cards today at the College Ave church for the Christmas Place.
OXFORD COUNTY - Operation Sharing's Christmas Place will not be collecting toy donations this year because of the pandemic.
This tradition has been in the community for nearly 40 years. Instead the program is asking for monetary donations or gift cards. This way they can give the cards to local families so they can shop for themselves this Christmas. Coordinator Kathy Gardiner says they still want to make sure everyone has a great Christmas this year and that everyone has something to open under the tree.
"Our aim is to keep our donors and clients, who might need a helping hand, safe during this uncertain time."
In the past, the Christmas Place collected new toys and gifts that clients could buy at reduced prices. Everyone was given specific times to come by and doing shopping on certain days. The gifts were laid out on tables, most recently at the College Avenue United Church in Woodstock. This format allowed their clients to choose the right gift for their own unique families and children. However, that gift buying format was deemed hazardous during COVID-19, leading to the new format of gift cards."
Gardiner admits they are a little concerned in being able to meet the demand with monetary donations, as opposed to toy donations, especially without the big drives this year, including Heart FM's Stuff The Bus.
"I am worried about that, not just so much just for the enjoyment of buying the gifts, that has been a tradition I think for a lot of people and I think the people who like to give, will still give but it is hard to get excited about giving a gift card, versus saying, hey look what I got and I got such a great sale and things like that. It is a little bit harder to know what we can count on this year and I think maybe the need, given job loss and people stuck at home is going to be more than it was last year."
Gardiner says they will need to raise a lot of money to meet the demand.
"Last we had 430 families that came through, so based on that, if it's only $50 or $60 in gift cards per family, that still brings us up over $50,000. We are starting at ground zero. I do have some gifts left over from last year but other than that, we don't have a bankroll we can go to and say this is what we get to send. I think Operation Sharing as a whole has been suffering through the pandemic, just like the rest of the community, so donations in general have been down."
Clients will have to register via email at thechristmasplace1@gmail.com or can drop off registration forms at College Avenue in the mailbox. Gardiner says they will give out the gift cards a few weeks before Christmas.
"We plan to be open for gift card pickup on Dec. 7 to 11 and clients will be contacted for pickup.
Christmas Place volunteers will be on hand at College Avenue starting today Nov. 23 to Dec. 11 to receive monetary or gift card donations. Monetary donations can also be mailed directly to Operation Sharing at P.O. Box 20081, Woodstock, Ontario, N4S 8X8.
The program continues to run in partnership with the Power of Hope and the Children's Aid Society of Oxford County to help people in need in Oxford.
Pajama packs will also be available for clients. Gardiner thanked all donors who are taking part this year or who have supported the program in the past.