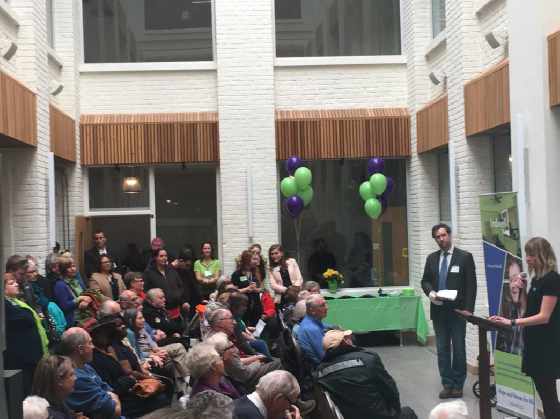 Over 100 people attended an opening ceremony at Harvey Woods Lofts on Thursday. (Photo Credit:Indwell)
Tenants are now moving into Indwells new Harvey Woods Lofts affordable housing unit on Van Ave.
WOODSTOCK - The construction crews have moved out and residents are moving in at Indwell's Harvey Woods Lofts in Woodstock.
Over 100 people attended an opening ceremony and others also the chance to tour the new apartments on Vansittart Ave on Thursday.
Indwell's Director and Projects and Development Graham Cubitt says the tenants will be living there at an affordable rate.
"Indwell provides affordable housing and supports to our tenants; so our tenants are able to afford the rent there if they're on a lower income like Ontario's Disability Support Program, CPP or other fixed income."
There are 26 new apartments with a mixture of one and two bedroom units, with some accessible units as well. All apartments are now occupied and there is growing waiting list for future tenants.
Cubitt says they're now switching their focus elsewhere.
"We're working now on redeveloping our program at Blossom Park; Blossom Park Road off Devonshire. We're redeveloping the former group home there into a new building with 34 independent suites in a new supportive housing building."
Blossom Park will be built to passive house standard, meaning the buildings residents will be able to save 80 to 90 percent on their energy bills.