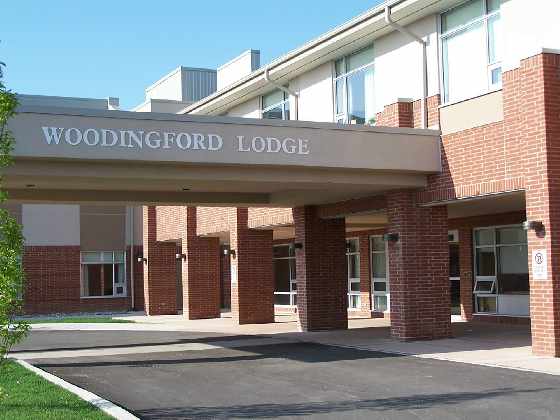 No other staff member has tested positive and all residents are isolated in their area and have been swabbed. At this time, there will be no visitors allowed at the facility until further notice.
WOODSTOCK - After a staff member from Woodingford Lodge in Woodstock tested positive for COVID-19, the facility's team has taken swift action to ensure residents are safe.
Woodingford Lodge's Medical Director Dr. Barry Roth and Director and Administrator Mark Dager confirmed only one staff member has tested positive.
Roth says they have implemented a number of proper safety measures to make sure staff and residents are safe and healthy.
"Early on in the course we swabbed all our residents and continued to do that at intervals, the interval presently being quarterly, probably will be changed to monthly based on this positive case. Our staff, well before the government suggested we do staff too, weekly, we've been doing it. We started early and we continued that, that's what has picked up this asymptomatic positive case. We continue to screen on entering or exiting the home. We wear PPE (personal protective equipment). We're protecting as best as possible, protecting the staff, protecting the residents and moving forward in that direction."
Dager says they looked at the area this staff member may have potentially worked in within the last little while and have since made sure residents are isolated in their areas and swabbed.
He adds they're looking at contact tracing to make sure there is no mitigated risk to anybody involved and they also want to make sure the staff member who did test positive is safe, well and healthy.
Roth adds Woodingford Lodge is aware there are positive cases in the public and it was recognized in the beginning there would be worry over asymptomatic carriers of the virus.
"We have aggressively wanted to screen everybody; workers, potential visitors and the residents to pick up people that could potentially spread without us knowing they have something. We've done that, we didn't want it, but we've got it, we recognize it and now we act on it."
At this time, there will be no visitors allowed at the facility until further notice.
Dager says this is so they ensure contact is reduced to residents and staff from individuals coming into the home.
"We will certainly keep our family members well-informed of when that process will be, when they can resume visitations indoor or outdoor. We ask for their patience and we appreciate their patience right now as we work through this process for safety for everybody."