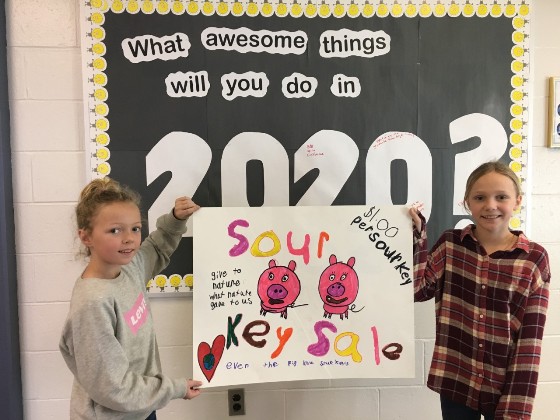 Lilli and Macey Taylor, organizers of the fundraiser (photo submitted)
The devastation caused by the wildfires in Australia deeply moved and motivated two sisters to help. The pair has organized a fundraiser to help the farmers down under.
EMBRO/WOODSTOCK - Two sisters from Zorra Highland Park public School in Embro are raising money today for farmers in Australia.
Lilli and Macey Taylor are selling sour keys, to help farmers, battling the raging forest fires pay for the feed.
Grade 5 student Lilli Taylor explains why they came up with this idea.
"Our uncle lives in Australia and is helping fight the forest fires so we thought of this idea and decided to sell sour keys at our school to raise money."
Australia has been battling the worst wildfires seen in decades, with large areas of the country decimated since the fires began, more than 2,000 homes have been destroyed, state and federal authorities are struggling to contain the massive blazes, even with firefighting assistance from other countries.
Lilli says they have already raised a bit of money.
"My mom and grandma they bought around 1,000 sour keys and we are hoping to sell them to every kid in the school. We have already raised quite a bit of money, we haven't even sold most of the sour keys and we already raised around $300."
Macey Taylor says they got the idea to help the farmers impacted by the forest fires while working with their mom.
"The reason we decided to do it, is our mom works on a farm and she has perfect hay, but we know that is not the case for farmers in Australia, so we thought of ways we could raise money to help them."
The girls will be walking through the classes at their school selling the candy and collecting the money for their goal of $7,000.
They will also be coming through Embro and Woodstock to sell the candy for donations, you can help out the cause by calling the girls mother for more information or to donate at 226-228-2834. You can also purchase the sour keys at the Zorra Township Administration building.