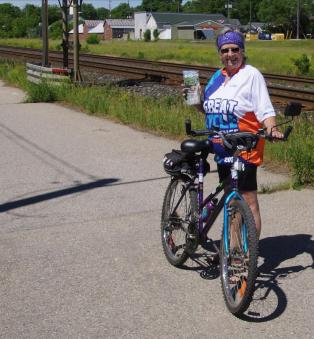 Submitted
For the entire month of August, a woman from Ingersoll will cycle 400km to raise money for Sick Kids Hospital in memory of her daughter.
INGERSOLL - One woman from Ingersoll will be raising money and awareness for cancer starting tomorrow. For the whole month of August, Henrietta Mulder will be competing in the Great Cycle Challenge.

She says she started participating in the initiative to get some exercise, but then started to participate in memory of her daughter who passed away from cancer.

"It was in January 2018 we got that phone call from my daughter saying that she had been diagnosed with colon cancer, so then that year, I dedicated my ride to her and she actually sponsored me in the ride so she was totally on the board with what I was doing. And then, unfortunately, her battle with cancer was a short-lived one and by October of 2018 she had passed away so now I ride in her memory. So now I just keep doing it as long as I'm able to."

This will be the fourth year Mulder will be participating in the event, and she'll be riding around Oxford County. She says she'll look to travel for more than 400 kilometres and raise $6,500 for Sick Kids Hospital.

She says she'll likely surpass her financial goal by the middle of August. She says what she enjoys the most about participating in this event year after year is she gets to help kids and enjoy being out on a bike.

"When you're out on a bike, you can be alone with your thoughts, you could sing at the top of your lungs and nobody cares, nobody even cares if you can carry a tune it doesn't matter. You get to enjoy nature."
You can go here to keep track of Mulder's progress throughout August.