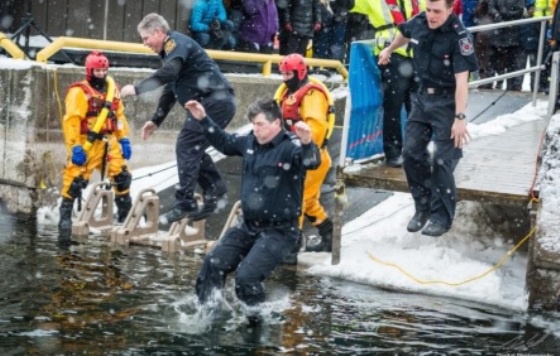 Representatives from Norfolk OPP and Woodstock Police will be participating in this year's Polar Bear Plunge.
WOODSTOCK - Members of the OPP and Woodstock Police are taking part in the Polar Bear Plunge to raise funds for the Special Olympics.
The events are virtual this year, so they are not giving out exact dates and times to avoid drawing a crowd. Norfolk OPP Constable Ed Sanchuk has raised almost $2,000, which exceeded his $500 goal. He will be doing the plunge with several other officers on Wednesday.
"I think we have about 15 or 16 members who will be jumping in on Wednesday, it looks like will be going in twice, because I said I would jump in a second time if I reached my fundraising goal and I have certainly done that."
Sanchuk tells us what he would need to jump in a third time.
"If I hit the magic $3,000 number, I think I'll go in for a third time but hopefully we have warming stations set up because I think that water will be awfully cold."
Woodstock Police have four members as well who will be taking the plunge this year. They are Greg Bryant, Teresa Mateurs, Logan Ernst and Adam DiCola.
You can find more information about the Polar Bear Plunge online here.