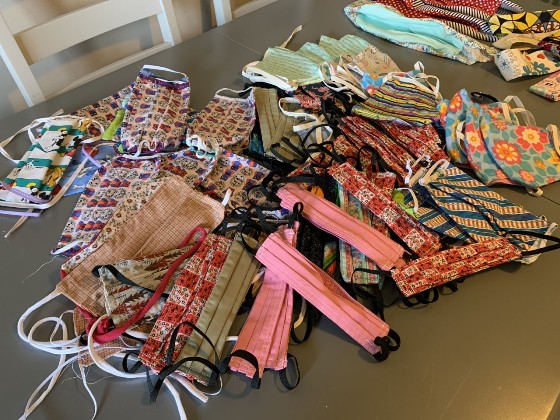 It started out with two women looking to help, and now over 120 people have joined the Oxford County Quilty Pleasures and together they have made over 1,000 masks for front line workers in the County.
UPDATE: Since this story was first posted on Heart FM news, the group has grown by at least 50 members. Little Ceasars reached out to offer the group members free pizza and they just delivered 125 masks to the Woodstock Police Service. Keep up the great work you Oxford County Quilty Pleasures.
They have also made little packages that hold a scrub sack and mask, that are being delivered to local hospitals.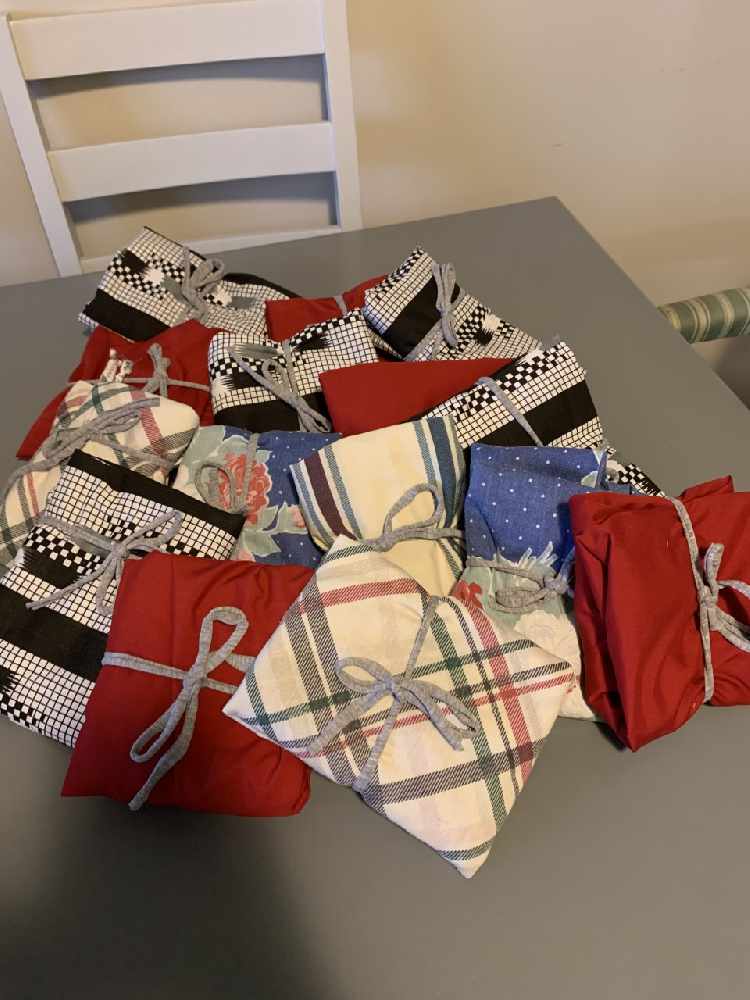 ---
OXFORD COUNTY - An amazing group of quilters has been supplying masks to a number of front line workers in oxford County.
The Oxford County Quilty Pleasures started a couple of weeks ago and they have already have 120 members, 18 sewers, 5 people cutting fabric and a handful of people doing pick up and drop offs. They have sewn over 1,000 masks and are making more every single day.
The masks have been distributed to Tremblett's Independent Grocer, Food land, LCBO, Alexandra hospital in Ingersoll, Woodstock Hospital, Cancer clinics, seniors homes, many PSW's and some average Joe's who just feel safer wearing a mask at this time of uncertainty. Yesterday they delivered 200 masks the Ingersoll Social Services.
The group was started by Kathy Killaire, who had just taken a beginner quilting class in the winter. She called one her classmates and friends, Kelly Cowell and they got to work. Once they created the Facebook group, that's when things really took off.
Killaire says they have had some had some hiccups along the way.
"It has been a learning curve to find the right design because depending on their use, some designs work better than others. For instance, people wearing masks all day like nurses want masks that tie to decrease the amount of rubbing elastics cause behind their ears and on their face, where people taking them off frequently prefer the elastic ears. We are now making a variety for designs and styles to suit everyone's needs."
She adds they are also making scub bags.
"There is now a need for scrub caps and scrub bags for local hospitals. The nurses can place their scrubs in a scrub bag, take them home and throw them directly into the wash. Keeping their family as safe as possible. We are now making these as well."
They have had people ask if they can send money to buy supplies, or donate to the cause. Killaire says they talked about it, and wanted to support a local charity right now.
"After Kelly and I had a little talk about it, we decided that any money we put towards this is for a good cause and do not want any reimbursement. Instead, we have decided that we would like to support Big Brothers Big Sisters of Oxford County and are taking optional donations to support their youth mentoring programs. This is a cause dear to both of us, and every dollar donated there will be greatly appreciated."
You can donate to Big Brothers Big Sisters of Oxford directly on their web site here.
Killaire did want to thank everyone for their hard work.
"In times like these people need to pull together, help each other and that is what this group of amazing people are doing. I like to say that we are a group of strangers working together but apart. I would like to personally thank each and every person who has helped us with sewing, donating material, cutting material, donating to our causing and helping us with deliveries. We are all in this together!"
You can find more information about the group on their Facebook Page here.