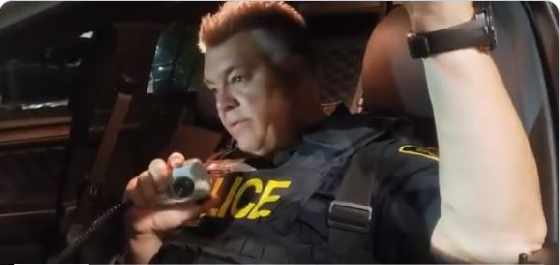 Photo credit: Twitter.com/OPP West
After 30 years on the force, Norfolk OPP officer Provincial Constable Chris Murray is retiring.
NORFOLK COUNTY - Longtime OPP officer and Provincial Constable Chris Murray is retiring from the Norfolk County OPP.
The veteran officer gave his final 10-7 in a video last week.
In a video posted on the OPP West Region's Twitter, Murray was emotional while thanking his colleagues.
"I'm just emotional here, going to go 10-7 for my career and I just want to put it out to all the units, it's been a good run for 30 years. Thanks very much for all the safety and keeping my back safe. For the crew in the dispatch office, please extend my warm appreciation for looking after me all these years. I'm going to miss everybody and all my co-workers. It's a tough day but thank you so much, all of you stay safe, please."
While on dispatch, Murray's children congratulated him on his retirement and service to the community.
"After 30 years of dedication and loyal service, my father PC Chris Murray, Badge number 11160 of Ontario Provincial Police, is going 10-7 for the last and final shift. I'm so sure of the people of Ontario, with pride, professionalism and leadership you have helped countless people in their darkest times and you will never be forgotten."
During his shift, Murray thanked his co-workers for keeping him safe and he says he'll miss everybody.
Please watch and share as veteran #OPP officer, PC Chris Murray Badge #11160 of the #NorfolkOPP gives his final 10-7 after 30 years of dedicated service. "It's been a great ride" and you will be missed, enjoy your retirement. Take care and Stay safe. ^es pic.twitter.com/2tvXxTtVVg

— OPP West Region (@OPP_WR) May 31, 2019