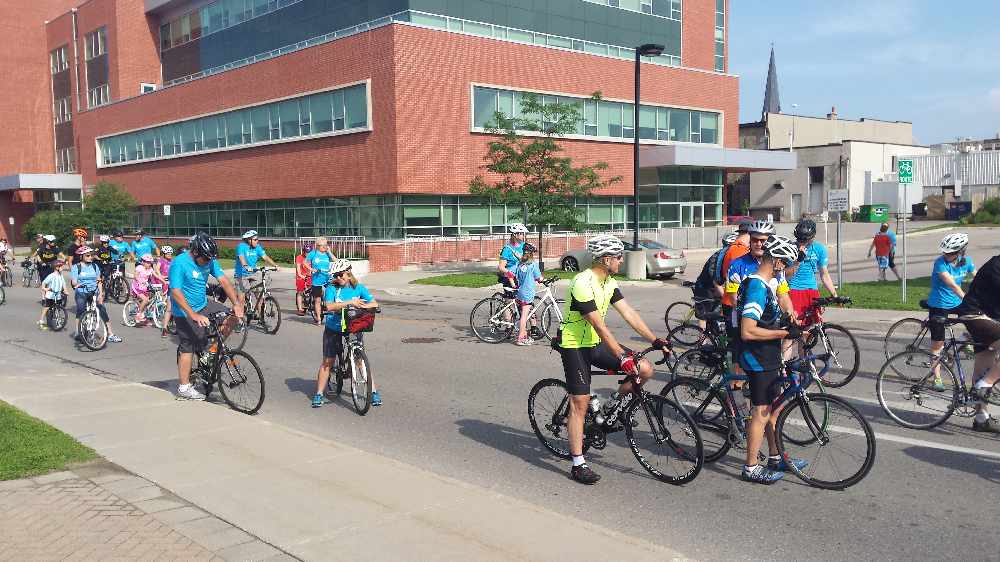 stock photo (submitted)
Cyclists of all ages are welcome to participate in CMHA Oxford's Ride Don't Hide event. This year's ride will take place at Huron Park Secondary School, raising awareness and funds for mental health programs in the community.
WOODSTOCK - The 5th annual CMHA Oxford Ride Don't Hide is coming up at the end of the month.
Presented by The Medicine Shoppe, the event is nationwide bike ride that helps raise awareness on mental health, along with raising funds for programs in the community.
Ride Coordinator for CMHA Oxford, Kathlene Campbell-Conlon says Woodstock will be among the many communities involved across Canada. She says it makes the community feel a part of something bigger.
"It makes us also feel as a community that we are part of a greater, bigger movement across the country. That there are these locations, from the Pacific to the Atlantic, that are all riding on the same day to show their support for their community for having mental health in their community, helping communities and that Woodstock is part of that, Oxford County is part of that. We're part of this bigger movement and it kind of goes back to that whole idea we're not alone, Woodstock is not alone in having this community gathering. We're part of this nationwide event that thousands of riders, donors and volunteers are all contributing to that energy throughout the country about getting mental health into the open, about having people talk about mental health, mental illness, addiction and supporting one another with just support from your friends, family or your community or also just mental health professionals."
This year's ride will take place at Huron Park Secondary School. Campbell-Conlon says riders have the option of four routes. Each ride will be at different levels; the advanced route is 48 km, intermediate is 28km, the trail route goes up to 15km and the family route is only 6 km.
"The 6km route is all in town, it's all on bike routes, and we have a lot of support throughout all four of our ride. We've been partnering with our local police forces and with our auxiliary to make sure our riders and anyone who might be walking, or anyone who might be travelling along those routes is safe that day. Our trail ride goes along the beautiful Thames River through Roth Park, which is just a really nice sight to see on a Sunday morning. And then our advanced and intermediate rides once again are heading out into the County and those are really great challenges for people who want to
conquer those large, rolling hills that we have in Oxford County that until you're on a bike sometimes you may not notice how large some of these hills are, but once you conquer them that feeling of accomplishment and comradery that you did it and your team and the riders around are achieving the same goal, it's really a powerful feeling."
In addition to having the option of choosing a route, riders will be served breakfast, lunch and be given an event t-shirt. They can also participate in free activities and games.
The event has raised over $80,000 dollars in the past four years for key programs, including Oxford County Walk-In Counselling. She says they're hoping to only add to that amount this year.
Ride Don't Hide is open to cyclists of all ages and skill levels. A registration fee is available to adults for $45.00, $40.00 for riders between the ages of 13 and 17 years-old and free for children 12 years-old and under.
She says they ask participants check in at least half hour before their ride begins. The event will happen on June 23rd.
To learn more about Ride Don't Hide or to get involved as a volunteer, donor or rider, you can visit their website.