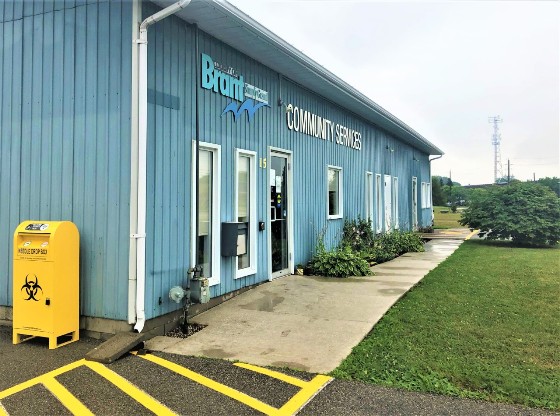 Brant Count has installed a new yellow sharps bin at the Community Service Office in Paris.
BRANT COUNTY - The Brant County Health Unit is teaming up with the City of Brantford on a new drug strategy.
The strategy provides action plans to promote the health and wellbeing of everyone in the community. Part of this has the County of Brant installing new yellow sharps bin at the Community Service Office on Curtis Ave. in Paris.
Community Development Coordinator Jake Cerson says a sharp is considered a medical and veterinary equipment intended for the purpose of cutting, piercing or injecting.
"This includes things like medical needles and syringes. Sharps can also include blades, laboratory glass or any material capable of causing punctures or cuts that may have come in contact with bodily fluids."
A sharps bin is a hard plastic container that is used to safely dispose of needles and other sharp medical instruments.
People in the community are free to use the sharps bin to safely dispose of their diabetic needles.
If you find a sharp on municipal property, please contact the Community Services office at the County of Brant, 519.44-BRANT x 3200.
If you find a sharp on private property and wish to remove it, follow these guidelines:
- Utilize a sharps bin/container that is constructed of puncture proof material but not glass or thin plastic, is leak proof, and will allow the sharp to be placed into the container. A lid to seal the container is ideal (e.g. screw top lid).
- Carefully pick up the syringe/sharp using a disposal tool such as tongs or pliers. Always keep pointed downwards and away from the body to avoid any contact with the sharp.
- Deposit syringe/ sharp into the disposal container needle first.
- Close the sharps container.
- Proceed to the sharps disposal bin at Community Services, 15 Curtis Ave N, Paris ON.
If you are uncomfortable removing the sharp from private property, contact to Brant County Health Unit for retrieval at 519.753.4937.