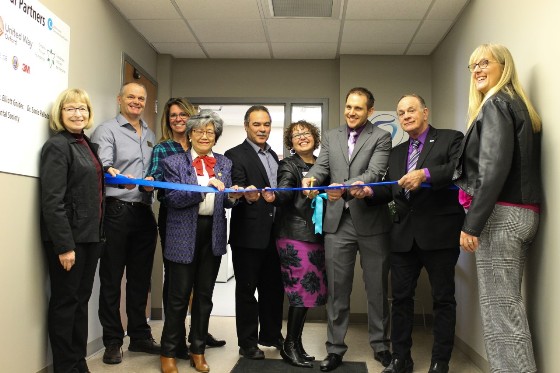 A new dental clinic for low income adults and seniors has officially opened their doors to the public in Woodstock.
WOODSTOCK - After four years in the making the Oxford County Community Health Centre has officially opened a new dental clinic.
The clinic brings innovation dental care to low income adults in the region. It was made possible thanks to collaborative effort from private donors and public partners. The Ontario Trillium Foundation provided a $67,000 OTF Capital grant to help purchase furniture and supplies for the dental clinic.
MPP for Ernie Hardeman says the grant by the Ontario Trillium Foundation is excellent news for the Oxford County Community Health Centre and low- income adults and seniors in our community.
"I am very pleased with the opening of this new dental clinic which will further remove barriers to health care and help provide quality service to people across Oxford."
The official grand opening of the clinic happened on Thursday. The Oxford County Community Health Centre team was joined by community partners including the Ministry for Seniors and Accessibility, Toyota Motor Manufacturing Canada (TMMC), United Way Oxford, and Southwestern Public Health.
Executive Director at Oxford County Community Health Centre Randy Peltz says they have been working on this project for 6 years.
"The generosity and dedication of our partners has been overwhelming. The groundbreaking investment by TMMC led to further one-time funding from a broad range of other sources, including United Way Oxford, Ontario Trillium Foundation, iheart Community Fund, Trillium Mutual Insurance Company, Lions Club, 3M, Oxford County Dental Society, and private donations."
The clinic is staffed entirely by volunteer dental professionals. Peltz and his team followed a successful model based in Haliburton. The clinic will allow greater access to dental care services for those who are underinsured, or uninsured. Construction was made possible thanks to a $150,000 community investment contribution from Toyota Motor Manufacturing Canada back in 2017.
A key program offered at the clinic is the Ontario Seniors Dental Care Program. This new government funded program will give eligible, low income seniors access to basic dental services. Southwestern Public Health is among the first in the province to start operating the program in partnership with the OCCHC under the Government of Ontario's new funding model.
Board Chair of Southwestern Public Health and Warden Larry Martin says cost and accessibility of services have been significant barriers to dental care in the region, particularly for our senior population.
"We are deeply appreciative to the team at OCCHC for helping us deliver our mandate quickly."
The Ontario Seniors Dental Care Program is currently accepting clients at the new clinic and at Southwestern Public Health's St. Thomas site. More information is available at swpublichealth.ca/seniorsdental.
The second program, Oral Health Outreach, to be offered by the Oxford County Community Health Centre, will open in the next several months. The clinic is located at the Oxford County Community Health Centre on 35 Metcalf Street in Woodstock.
Dentists who are interested in contributing their time and expertise to the community are asked to contact Jo-Anne Orton at joanne.oohai@gmail.com.