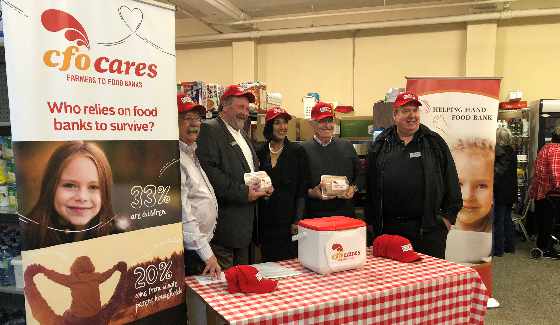 (submitted)
The Chicken Farmer's of Ontario presented fresh chicken meals to the Helping Hand Food Bank in Tillsonburg.
TILLSONBURG - Oxford MPP Ernie Hardeman was on hand to help present fresh chicken meals with local chicken farmers in Tillsonburg.
The presentation took place at the Helping Hand Food Bank yesterday, which saw Hardeman join the Chicken Farmers of Ontario's local chicken farmers donate one million fresh, locally grown chicken meals.
Hardeman says it's important for the CFO to provide for the communities across Ontario.
"It's a great program to provide the food needs of the community, and also make us all realize how important our chicken farmers but even more so how important looking after our community is."
The program is in partnership with the Ontario Association of Food Banks, which supports over 500,000 people who visit food banks each year.
Hardeman adds it's a great cause to be a part of.
"It's an honour to help promote the good food that the chicken farmers produce, and again, to promote the good work that the food banks are doing in our community."
The program has donated 3 million fresh chicken meals to food banks over five years.
CFO Cares: Farmers to Food Banks was launched in 2015 and it is a collaborative effort that allows farmers to donate up to 300 locally grown chicken across the province. More than 375 family farms are participating in the program, donating fresh, locally-grown chickens to families in need.