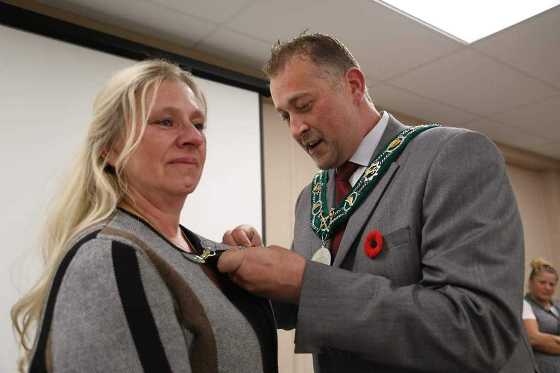 Sandra Corbett was awarded the Governor General of Canada Sovereign's Medal for Volunteers on Sunday, in part because of the amazing work she does for the MS Society of Perth Oxford.
WOODSTOCK - A woman from Beachville has been awarded the Governor General of Canada Sovereign's Medal for Volunteers.
Sandra Corbett was presented the award on Sunday for the work she does with the MS Society of the Oxford Perth. Corbett says she was extremely honoured.
"I was very honoured when I found out it was my young nephew who nominated me, it made my heart smile, it made me so proud that he would think of me that way."
Corbett has been volunteering for most of her life, starting out with the Optimist club. When she was a kid, she served as Brownie, Guide and then a Pathfinder. As a teenager she was a Candy striper at the Alexandra Hospital in Woodstock. As an adult she was very active at her kids schools and outside events and also served as a baseball coach. She has volunteered for the Relay for Life and even recently raised money at her work for breast cancer research.
Over the past 16 years, she has devoted her free time to the MS society of Oxford Perth. She is the team captain for her team, the Merry Striders, raising money every year for the Walk to End MS. She has hosted spaghetti dinners, yard and plant sales, bake sales and so many other events to raise money for MS research. She hosts a monthly MS self help group and is currently the liaison between the MS Society and the Century 21 Gala Committee, working year round, to contribute to the success of that enormous event.
Corbett explains why she got involved with the MS society, starting in 2004.
"My youngest sister was diagnosed with MS and I hadn't even heard of it before that point and we started fundraising, then two years later my eldest sister was also diagnosed, now I am determined that we will raise awareness for this disease and one day, we are going to find a cure."
Woodstock Mayor Trevor Birtch presented Corbett with the award at a special ceremony in Woodstock at the Royal Canadian Legion on Sunday.