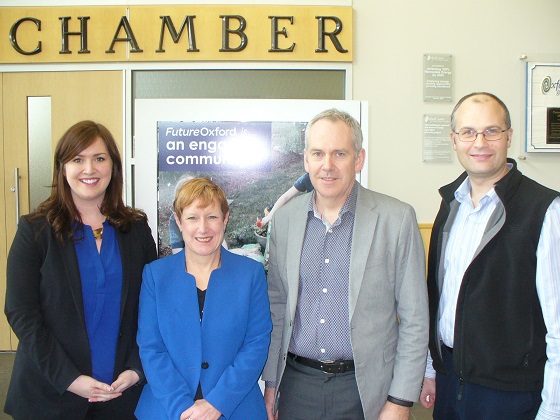 Staff with Oxford County were able to attend a forum today which looked at the Emerging trends in leadership.
WOODSTOCK - Oxford County hosted a leadership forum today on Emerging trends in Leadership for their staff.
A four member panel was brought in to discuss ways to build and enhance administrative leadership in the public, private and non-profit sectors. Director of Community and Economic Innovation at the City of London was on the Panel and she talks about the key message she was trying to get across.
"I've learned a little bit about leadership from some of the wonderful people I have worked with and a lot of comes down to being committed to being a public servant and understanding what that means."
City Manager for the City of Hamilton was another panelist and he shared one of his messages with Heart FM.
"A lot of what makes leadership successful I think is not learned in a textbook, in fact a lot of it is learned well before you ever enter school."
Owner and President of 31st Lines Strategic Communications Karen Sample was part of the panel as well and talked about her experience as a leader.
"One distinction you want to make is there is a difference between a manager and a leader, a true leader will inspire those around them and will build a team that wants to move forward and power there team and ultimately be successful that way, people who manage may do it very well but they are not always people who necessarily inspire."
Execulink Telecom CEO Ian Stevens was also part of the panel and tells Heart FM he was there to share some insights from private business with County Staff.
"I'm going to talk a little bit about leadership and how having a great plan doesn't mean it is going to go anywhere, sharing a plan and getting your team to understand the why is only part of the story but excellent execution will take a mediocre plan and make it great."