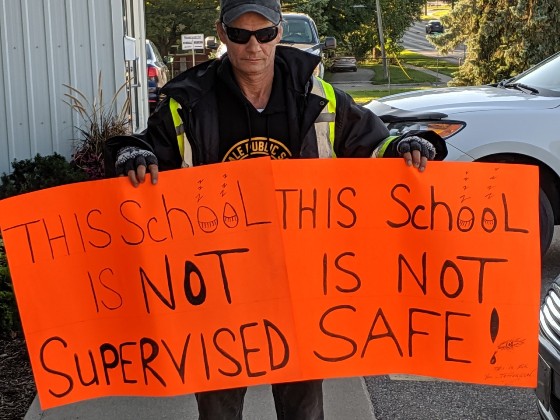 A local parent turned a lot of heads at Eastdale Public School by carrying two signs that read, This School is not Supervised, This School is not safe.
WOODSTOCK - A parent made waves at the Eastdale Public School with a peaceful protest.
Scott Grass was at the school for drop off and pick up, carrying two signs that read This School is not Supervised, This School is not safe. Grass says he made the signs in response to an incident that happened during a lunch break on Friday, involving an autistic
child.
"I was advocating for a mother of an autistic boy, who has been injured in the classroom, he has been hurt in the classroom, he has been hurt in the classroom, he needed a voice and I figured I could be the voice, when I heard the story from the mother, it made me cry and I felt like people needed to know what was going on, inside the school."
Grass says the incident could have easily been avoided if the school had proper supervision.
"An incident happened on Friday and it was totally preventable had their been supervision inside the classroom and this is not an isolated incident."
He says the school told him, the room was supervised during the incident, however he has heard a different story from the kids.
"I approached the school and I questioned them about the supervision, they assured that the supervision was in place and when I asked for the camera details and who the person was that was the supervisor, I was told that it was none of my business and everything was under control and I didn't need to see anything."
Grass says he thinks we need more dialogue and more transparency about what is happening inside our schools. The incident did happen during a Work to Rule campaign from education workers.
The school sent out an email to parents on Tuesday afternoon, that read as follows.
Parents/Guardians:
We are aware of the picket in front of the school. Our school is safe for your children and supervision by staff is always in place. As always, thank you for your support and for making Eastdale a great place to learn and work.
The School Board had issued the following statement on the issue.
"Following an investigation of the incident that occurred on Friday, October 4, the students involved in the incident were held accountable for their actions and received appropriate consequences. A plan is in place to work with the families and students involved in this matter. Full supervision is, and was, in place at Eastdale PS, including in our classrooms. Thames Valley is committed to providing safe learning and working environments for our students and staff."