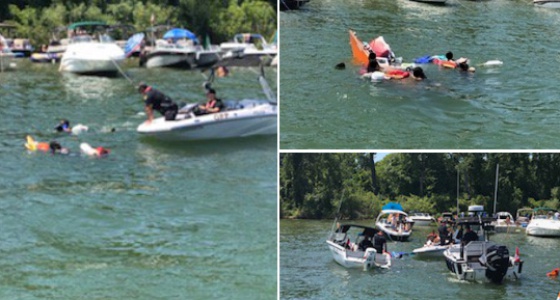 Courtesy: OPP
Canada's biggest boating party came and went over the weekend, but not without a few incidents in the waters at Long Point and Turkey Point.
POTTAHAWK ISLAND - OPP say over 500 boats were in the waters for the annual Pottahawk party over the weekend.
There was an increased police presence on the waters this year, for good reason.
Constable Ed Sanchuk says OPP Marine units responded to a number of incidents including an overloaded boat that sank.
"We just rescued 5 people, that's why we are out here, so we got them safely to shore. The main thing is that investigation is continuing, charges are pending and if I am not mistaken we are going to have to salvage a boat out here in the lake."
Sanchuk says there were incidents out of the water as well, and people should make safety their number one priority while having fun this summer.
"Incidents are happening out here in Pottahawk, aside from the sinking boat, there was a woman that was burned from BBQ. As far as the waters go, people are still thinking they are invincible, we can't stress enough that we don't want to be knocking on a loved ones door reporting of a serious injury or even worse, telling them their loved one is deceased."
Sanchuk reminds boaters that the OPP will stop vessels for safety checks and boaters should be docked if consuming alcohol on board. One man blew nearly twice the legal limit and was also taken into custody for impaired boating.
5 people rescued from #Pottahawk in Lake Erie after boat sinks. Please make sure YOU put #SafetyFirst. @NorfolkCoFire@NorfolkEMS @NorfolkCountyCA #NorfolkOPP ^es https://t.co/AbJrLptIjP

— OPP West (@OPP_WR) July 14, 2019