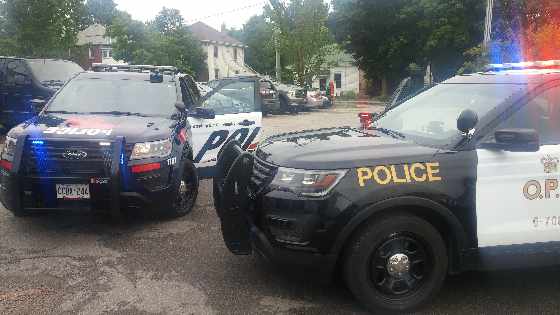 Briefs include a mountain bike stolen in Woodstock, a 48 year old caught red handed during a B&E in SWOX and several different thefts in Delhi.
WOODSTOCK - A 35 year old man from Woodstock was charged for having phony licence plates.
Police say they stopped the man on Tuesday after midnight in the area of Dundas Street and Woodall Way. The officer conducted a traffic stop, ran the plate back, which came back registered to another vehicle. The plate was seized and the driver was charged with Licence Plates not Authorized.
---
WOODSTOCK - Woodstock Police are investigating after a mountain bike was stolen from a local business parking lot on Norwich Ave and Juliana Drive.
Police say the bike was taken from a vehicle bike mount sometime between Monday night and Tuesday morning. It is described as a 2020 Giant Talon 1, black with blue lettering, blue pedals and a Shimano pouch under the rear seat.
Woodstock Police are asking for the public's help and anyone with information can call them at 519-537-2323 or Crime Stoppers at 1-800-222-8477 (TIPS).
---
SOUTH-WEST OXFORD - Oxford OPP arrested a 48 year old person after a break and enter on Ebenezer Road in South-West Oxford.
The owner actually came home during the break in and noticed the door had been left open. Once the intruder realized the owner was there, they fled the area on foot into a nearby field.
Police and the OPP Canine unit were called in to track down the suspect. Officers located and arrested the individual a short time later and charged them with break and enter.
The accused is scheduled to appear before the Ontario Court of Justice in Woodstock at a later date.
---
DELHI - Several power tools and a bicycle were stolen from a home on Melody Drive in Delhi.
Police say someone broke into a locked shed on Tuesday morning.
Later that morning another shed on Melody Street was also broken into. This time a leaf blower and a lawn trimmer was stolen.
---
DELHI - Norfolk OPP are investigating a break and enter on Arnold Sayeau Drive in Delhi.
Police say someone broke into a trailer on the property and stole a 55 inch Insignia TV, a sound bar and a fireplace insert. The theft is valued at approximately $1,100.
Members of the Norfolk County OPP are continuing to investigate and are seeking the public's assistance with this investigation. If anyone has any information they are being asked to contact the OPP at 1-888-310-1122.
Should you wish to remain anonymous, you may call Crime Stoppers at 1-800-222-8477 (TIPS) or leave an anonymous online message at www.helpsolvecrime.com where you may be eligible to receive a cash reward of up to $2000.