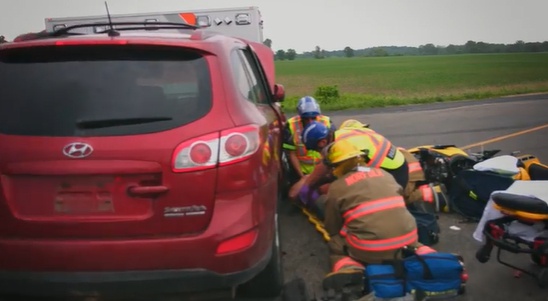 Check out this powerful video from Norfolk OPP as they recreate a crash and introduce us to a rider whose life was forever changed.
NORFOLK COUNTY - Norfolk County OPP Constable Ed Sanchuk has created a powerful video for Police Week.
He wanted to highlight how crucial it is to share the road for all vehicles. He did warn the video can be tough to watch.
"The following video was a recreated crash of a motorcyclist who survived and the OPP along with the family members and everyone affected by the crash has a very important safety message for all of our road users. What you are going to see in this upcoming video is not meant to shock you, this video was created in order to show the devastating effects collisions have on everyone and how life is never the same for everyone involved."
Sanchuk says most collisions involving motorcycles are caused by driver inattention and aggressiveness and by taking 2 extra seconds to make sure it's safe to proceed, you can save a life. He also know challenges the Oxford OPP to share some of their safety tips.
Check out the video on their Facebook page. (Warning the video may be tough to watch for some)