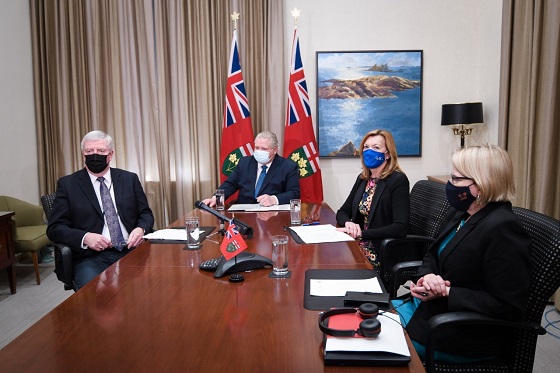 Premier Doug Ford and retired General Rick Hillier provided a vaccine distribution update to Ontario Mayors today, calling the news about AstraZeneca a real game changer.
ONTARIO - Ontario Premier Doug Ford and retired General Rick Hillier met with 444 Ontario Mayors this morning.
They were providing an update on the vaccine rollout happening across the Province. Premier Ford says the announcement today about the AstraZeneca vaccine is a real game changer.
"The AstraZeneca news today is absolutely great news, it is a game changer, we need all the vaccines we can get but adding a 3rd vaccine to our rollout plan does add a complexity. So let me say it again, we are 100 percent confident in this team, we will be nimble, we will adapt and we will succeed. Just to give you a quick number, 94% of all the vaccines that we have in Ontario, have been administrated."
Woodstock Mayor Trevor Birtch was on the Conference call today and said it was very positive. He says they were told the new vaccines will hopefully arrive quickly.
"This will make a tremendous difference to how quickly rollouts to other segments of our community and other age groups. They shared enthusiasm, in fact the Premier himself said it will be fast and furious when we start to get those shipments of AstraZeneca. It will taken care of in unique ways in different health regions and municipalities depending on their unique needs."
We can expect more information coming from the Province and Health Units in the coming weeks as it becomes more clear when and how many shipments arrive.
You can listen to the full interview from the Mayor below: