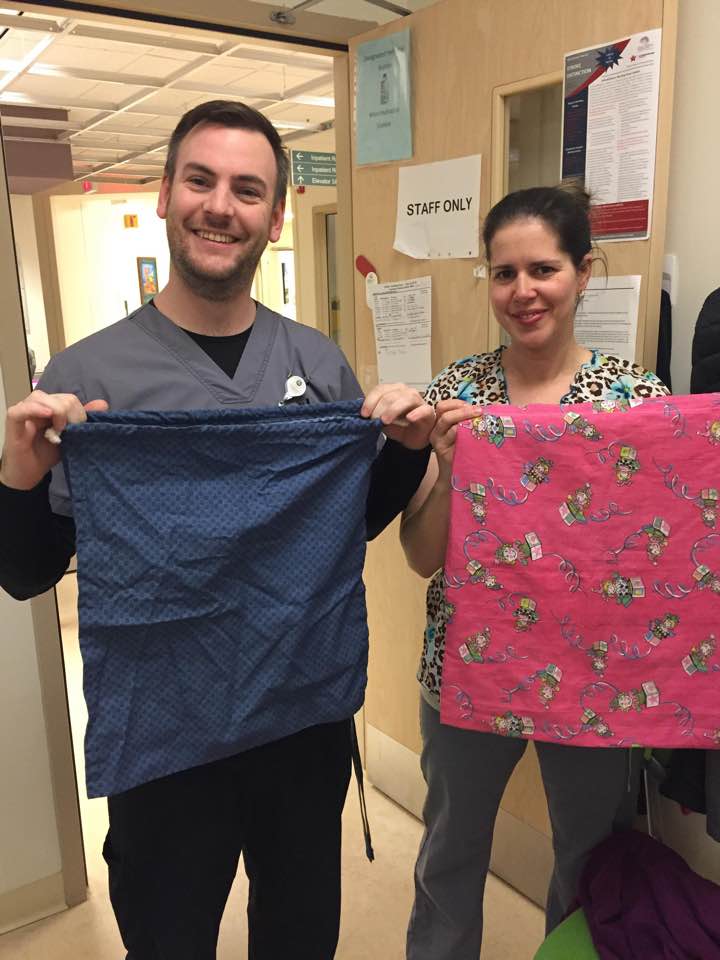 Happy hospital staff with their Scrubs Totes (submitted)
A Woodstock Hospital Nurse came up with the idea of Scrubs totes for hospital staff to put their scrubs in to to take home to be laundered to prevent the spread of the coronavirus.
WOODSTOCK - With any problem, there is always a solution. For one local nurse, she struggled with the thought of hospital staff taking their scrubs home to be laundered, possibly exposing others to the corona virus in the process.

The solution? Scrubs totes. Woodstock Hospital nurse Bethanie Fulton came up with the idea for scrubs to be put into a washable tote while at the hospital, take them home, dump scrubs in the washer, then put the tote in washer as well.

The simple and innovative idea became quite the project for a group of locals who took the idea and started sewing. In a short amount of time, the group has made 65 totes that Nurse Fulton will be taking in to work at Woodstock Hospital today to distribute.

The Response has been enthusiastic from health care workers, with some already asking to get their hands on one. It would appear that word travels fast, and far. Some nurses in on the COVID-19 ward at the St. Thomas Elgin General Hospital, want bags as well. An Alexandra Hospital nurse in Ingersoll was given a couple of bags and now her friends at work all want them too. A hospital volunteer at a Vancouver area hospital saw a post on social media and is getting orders in for the totes.

The group welcomes anyone else to join in making the totes, it is primarily led by Debbra Eddy owner of Country Patchworks and Julie Shipp. The pair have been reaching out on Facebook for volunteers. You can contact them on the Country patchworks Facebook page.

Shipp says most sewers, crafters, quilters often have a deep stash of fabric.

"This is a good opportunity to purge & feel really good about it, and in a crisis we really can't do anything about, besides staying home, doing something like this gives us a small feeling of control."

This pattern is what is being used if you think you have the skills to make the Scrubs tote.
-No need to box bottom corners. Finished size is 18"x18".
-Cut size is 19"x21.5". Drawstrings cut size min. 40".
-Cord, grosgrain ribbon (no satiny ribbon pls), self fabric , etc. 1/2" seams finished with zigzag or similar.
-Good quality colourfast fabric that can withstand repeated washing.