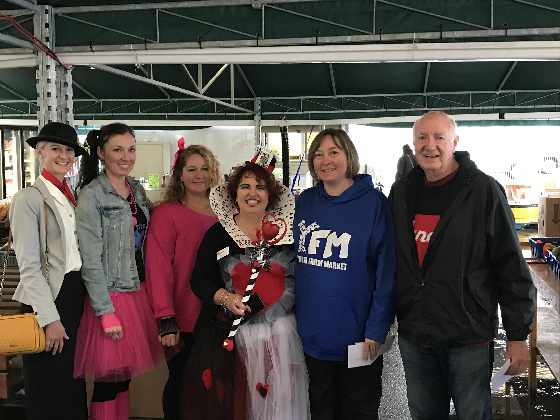 United Way Oxford's Staff were on hand as a recipient of the Quarterback 4 Change Initiative in Woodstock.
Woodstock's Your Farm Market held a cheque presentation for some of the community's local organizations. A total of over $21,000 was given to different initiatives, which was raised through their Quarterback 4 Change program.
WOODSTOCK - Your Farm Market in Woodstock gave over $21,000 to various charities in the community.
They held a cheque presentation yesterday, which was a culmination of their Quarterback 4 Change program.
Co-owner and manager Bernia Wheaton says it's had a big impact on the community.
"So back in the spring we wanted to innovate the way that we gave back to our community. Every business is always asked for donations and the market is often very busy so we wanted to streamline that, so we came up with the Quarterback campaign. So we gave every customer a quarter when they came to visit the market and they had charity jars, and they could choose what cause or charity they wanted to support."
Among the organizations included United Way Oxford and Operation Sharing's Food For Friends.
United Way received $3,027.85, $6,423.90 was given to Operation Sharing, while their scholarship program for university and college students received $6,000 and $5,698.15 was provided to various charities who were featured in the program's Charity of the Week.
She adds the campaign has taught people, especially the next generation, about philanthropy and about the needs of the community as well.
"This is our first year for the program but it has been so popular and customers have appreciated it so much that we will definitely be bringing it back in 2020."
The campaign began in June of this year. Wheaton adds over 100,000 customers attended the store throughout the summer.
She says they encourage charities to become involved with the initiative, where they can apply to be either a Charity or Cause of the Week. They can fill out an application online.
Heart FM's Mike Hodges was at Your Farm Market this afternoon where they donated over $20,000 to various charities in the community through their Quarterback 4 Change program. Stay tuned for a story on-air and online tomorrow.

Posted by 104.7 Heart FM on Thursday, October 31, 2019