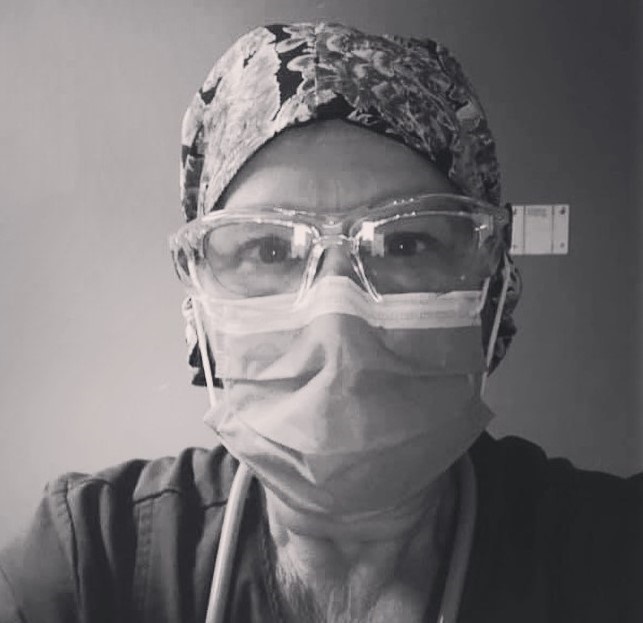 Registered Practical Nurse, Jackie VanHappen (submitted)
A Tillsonburg nurse of over 33 years suits up in her scrubs and PPE everyday, despite the fact that she is considered at high risk of contracting Covid-19, due to her age and existing health conditions. 
OXFORD COUNTY - It is National Nursing week, a timely honour, in the middle of a pandemic. The special recognition is not lost on Registered Practical Nurse Jackie VanHappen who has been in the profession for 33 years.

"It is a great honour and pleasure to be part of the nursing team. I think I can speak for most nurses when I say that we do this because we genuinely want to help those that need our care. It is a beautiful thing when a career and a passion come together."
On any given day, VanHappen can be found assisting patients at Tillsonburg District Memorial Hospital, where she specializes in wound care on the front lines. Often, she is assigned to care for and monitor medical and surgical patients. The newest role added to her many tasks is screening people outside of the emergency department when the patients, visitors and staff enter the building.

What is intriguing about VanHappen is the fact that she, herself is considered at risk of contracting Covid-19, as she is in the high risk age category and has an existing health condition.

VanHappen says it is the love of the job that motivates her to suit up in her scrubs and personal protective equipment and be ready to help.

"I went into this profession to help those in need no matter what the situation. When you work in the medical field there will always be a risk. At this time in our lives we need all hands on deck. If I can set my own fears aside and contribute to flattening the curve then I know I'm doing my part no matter how small it seems. I think that mindset is key."

Although an optimist by nature, she admits she is nervous that some people may not be taking it as serious as they should. With the province slowly opening non essential businesses, she is skeptically hopeful.

"At the end of the day, the best thing you can do is stay home and and only go out if you need to and practice proper hand hygiene. I cannot stress enough how important physical distancing is in fighting the virus. They last thing we need is a second wave of Covid19."

With years of experience, VanHappen knows all too well the risk of burn out, so she makes room in her schedule for some much needed down time. The mother of five and grandmother of one, has not been able to see her three children that don't live with her during the pandemic.

"Of course I make time for some video chats with my family, they help keep me in a positive mindset. Cooking is also something that has always relaxed me, so my time off involves cooking up lots of new recipes and I've been trying to get as much rest as I can."