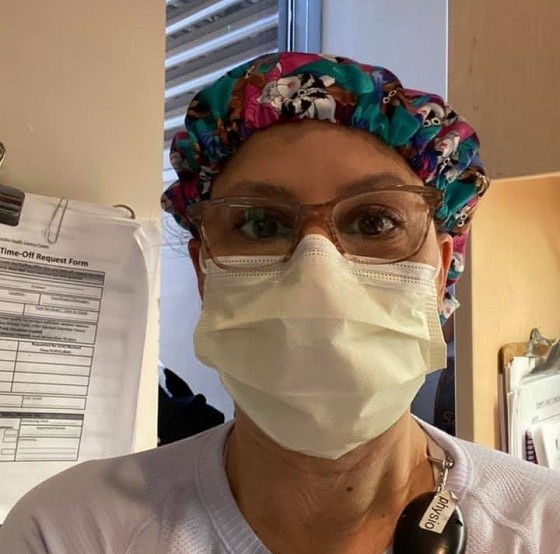 Registered OTA/PTA, Christina Ius in her personal protective gear at LHSC (photo submitted)
An Oxford County resident and frontline worker weighs in on lifting restrictions in the province while offering advice for binge watchers and tells us how she stays positive.
OXFORD COUNTY - It has been weeks since the Province of Ontario has been in lockdown mode due to the Coronavirus, but for essential frontline workers they are still going the distance each day.

For Christina Ius, who works in Oncology as an Occupational therapy/physiotherapy assistant, she hopes lifting restrictions earlier than anticipated it doesn't bring a set back.

"The virus is real and scary. Our numbers have reflected that we are not seeing the pandemic numbers at the level of Italy, Spain or the USA. I am nervous though about lifting restrictions too early and those who don't take this risks seriously."

That being said, the mother of two is confident in the personal precautions she takes to protect herself and her family, but she says there are still a lot of people doing it all wrong.

"Please wash your hands. The community needs to understand that is far better than using gloves, which harbour germs and don't protect you. Masks are great just wash your hands before putting them on and off."

In her line of work making sure people move properly, she is concerned about the Netflixers or gamers not moving enough.

"My biggest recommendation would be to move your body regularly. Set goals to move, example, for every episode of television watched, do 15 minutes of moving, stretching. It is so important for people to move their bodies."

Under therapist direction, on any given day she can be seen at LHSC engaging patients through functional mobility, executing exercise programs developed for current status, or helping with daily living activities. It's a job that focuses on the current situation and the future, which could be why this frontline essential worker remains positive.

"In my down time, I walk daily, talk to family, enjoy time with my partner, read, cook delicious meals and stream my fair share of programming. I also really focus on having gratitude for the small things. Nothing lasts forever, this too shall pass."