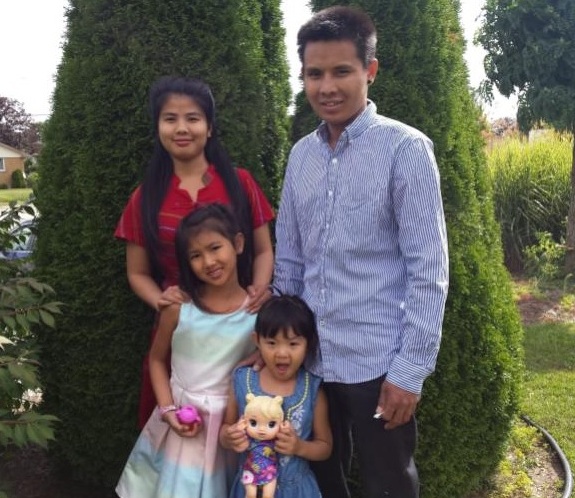 The Lutheran Church in Woodstock is reuniting a family, who spent most of their lives living in refugee camps in Thailand.
WOODSTOCK - The Lutheran Church is Woodstock is looking to reunite a family of refugees.
Four years ago, the church sponsored the Karenni family, who came to Woodstock after spending 19 years in a refugee camp in Thailand. Re Meh and Ree, Reh had fled their home country of Myanmar, after an attack from the army that impacted hundreds of thousands of ethnic groups in the region. Mary Moore on the Refugee committee with the Lutheran Church in Woodstock says the family is now doing amazing.
"We brought over a young mom and dad, with their 4 year old and newborn baby. They became a part of our church and they are good responsible community members of Woodstock. He has secured a job and she is continuing to improve her church and is looking to study to be a PSW at Fanshawe College. The two children and now in school and they are doing very well."
Moore says after about a year, they asked if they would consider bringing over her family, he mother, father and three sisters.
"So we considered that but their was no programs available with the Government, so we had to financially sponsor them completely. We have found a place for them to rent, which was difficult because housing is in short supply in Woodstock and the rents are going up quite a bit. It has been a bit of a burden financially and we are starting now to do some fundraising because we still need $14,000 to cover our year commitment to them."
Moore says the family will arrive in Canada on October 17th.
"It will be a wonderful reunion, the mother has not seen her grandchildren for three years and Re Meh will be reunited with her three sisters, who she is really close with and misses extremely."
The Lutheran Church is having an e-recycle fundraiser and they will have a big bin at the Lutheran Church on Springbank Ave from October 16th and 19th. Anytime between 3 pm and 7 pm, you can drop off your used electronic equipment. You can also donate directly to this refugee family online here.