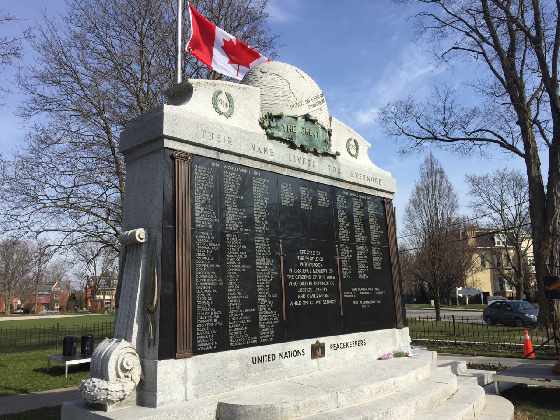 Stock photo
Several ceremonies will be happening across the region for Remembrance Day. There will be events throughout this month, beginning as early as this Sunday and a majority of them happening on Monday, including at Victoria Park Cenotaph in Woodstock.
OXFORD COUNTY - Several places across the region will be hosting ceremonies for Remembrance Day, including Woodstock.
The Tillsonburg Military History Club is hosting an exhibit at the Tillsonburg Arts Centre as part of the Week of Remembrance, which goes from November 5th to 12th. It runs from 9:00 am to 4:00 pm and is closed on Sunday.
The Plattsville and District Heritage Society were assisted by dignitaries and the Contingent of Cadets in laying down wreaths at the Chesterfield Cenotaph yesterday m. Following the service, there were displays and refreshments.
The Tavistock Legion Branch 518 also hosted a ceremony on November 10th at 1:00 pm.
The Princeton Museum and Library will be having a ceremony today scheduled for 10:30 am.
The Victoria Park Cenotaph in Woodstock will also be having an event today at 11:00 am. Roads will be closed including Graham Street from Hunter to Buller Street. Roads will also be closed at Buller Street from Riddell Street to Light Street.
There will be other ceremonies taking place at the Tillsonburg and Ingersoll Cenotaphs today. The Tillsonburg and Ingersoll Cenotaph will each have an event scheduled for 11:00 am. There will be a short church service at the Sacred Heart Catholic Church on 131 Thames Street North in Ingersoll beginning at 9:45 am, before a parade heads back to the Cenotaph at the Ingersoll Town Hall for a laying of the wreaths.
Afterwards, the public is invited to the Legion for lunch and refreshments.
Multiple ceremonies will be happening in Norwich on November 11th. The Norwich Legion Branch, Norwich Cenotaph and Emily Stowe Public School will be hosting events at 11:00 am.
And An Evening with Norm Christie is happening in Woodstock on November 29th.
The event will be at the Royal Canadian Legion Branch 55 on Dundas Street. Christie will be presenting the Woodstock Masters of War, The Rise of the Canadian Corps during the Great War.
Tickets cost $80.00 and the event is limited to 100 seats. For those interested, you can call 519 537-3112.