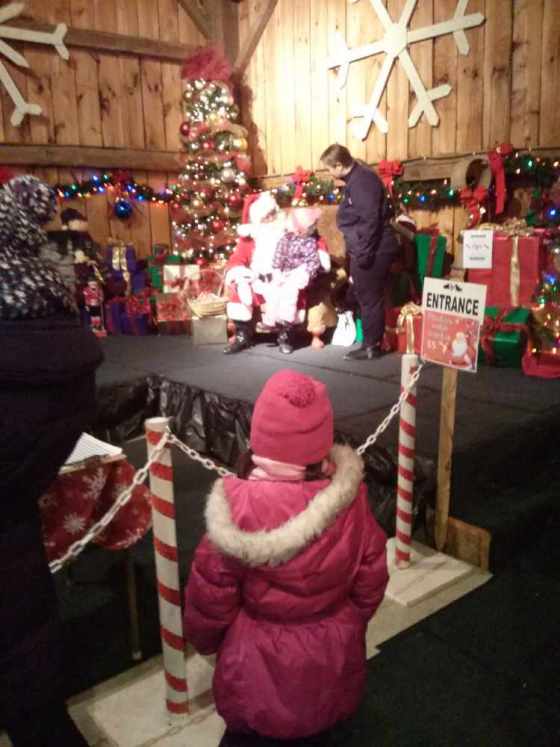 stock photo
Ingersoll's Santa Festival Village will be opening this Friday at the Cheese and Agriculture Museum. They will have many fun events for the family including meeting Santa, photo's, hot chocolate and something different for the kids every week.
INGERSOLL - Santa's Festival Village in Ingersoll will open this Friday.
The Curator of the Ingersoll Cheese and Agriculture Museum Scott Gillies says they will hold many fun events for the kids and the family including Face painting.
"If children have not yet written their letter to Santa they're invited to do that, they can go into the warmth of the Oxford County Museum school building, sit at a historic desk, and write their letter to Santa, we have a large mailbox courtesy of Canada post that they can actually put it in the mailbox, and then those letters will be sent off to the North Pole."
They will also be serving Hot Chocolate, Coffee, Apple Cider, Cookies, and will have market tables selling ornament craft kits and non-edible Cinnamon Tree Ornaments.
Gillies adds that the village is a fun and enjoyable time for the whole family.
"This coming Friday evening is the official grand opening of Santa's Festival Village here at the Museum, the doors will open at 6 PM and will continue to be open until 9 PM, and weather permitting there will be fireworks in the park at 7 o'clock and that will depend on wind and rain, if that messes things up then we'll have to look at rescheduling that part of the event, but his workshop area in the museum has all been decorated with the theme of the nutcracker suite, so the winter wonderland and all kinds of wonderful things for people to enjoy this new particular theme."
The Village will be set up at the Ingersoll Cheese & Agricultural Museum and opens at 6 PM this Friday, and will run from November 22nd to 30th, and December 6th, 7th, 13th, 14th, 20th, and 21st. They will be open from 6-9 pm on Friday nights and 5-9 pm on Saturdays. Each week they will have fun new activities for the kids, so it will be something different every time. You can see a complete schedule online here.