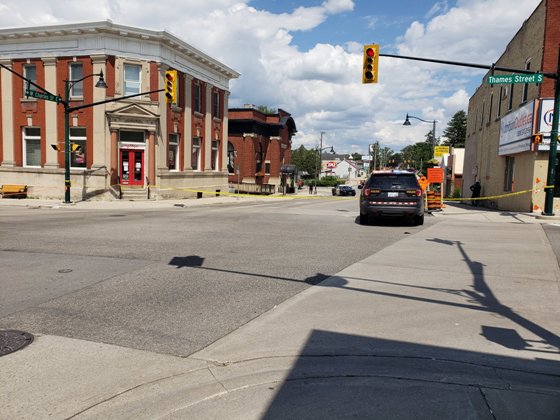 It has been nearly two weeks since a driver struck and killed 22 year old Ashten Fick of Ingersoll while she was pushing a baby stroller. Today, police have officially charged the driver in the crash.
UPDATE 08/13/2020 - Police have officially laid charges in the tragic death of a young Ingersoll mother who was struck by a transport truck.
As a result of the investigation, a 23 year old has been charged with Careless Driving and Failing to Stop at Accident Causing Death.
On July 31st, the driver struck and killed 22 year old Ashten Elizabeth Fick of Ingersoll.
The accused is scheduled to appear in a Woodstock court at a later date.
UPDATE - One person has died following a tragic collision between a transport truck and a pedestrian at the intersection of Thames Street and Charles Street in Ingersoll.
Initial investigation determined that a pedestrian pushing a stroller, was crossing the roadway when a transport truck hit the pedestrian.
The pedestrian was transported to hospital with life threatening injuries and was later pronounced deceased. She had two infant children with her at the time of the accident. OPP says one infant child was transported to hospital with minor injuries. The driver of the truck was not injured.
The roadway will be closed while the West Region Technical Traffic Collision Investigation (TTCI) team assists with the investigation.
Updates will be provided as information becomes available.
--- Original Article
INGERSOLL - Police and EMS are at the scene of a serious accident on Thames Street in Ingersoll.
Eye witnesses tell Heart FM that it may have been a hit and run and involved a family of four who were walking on the sidewalk. Michael Fairbanks witnessed the crash and says the victim was laying face down until she was rolled over at which point two ladies began Chest compressions as he ran up to assist in the compressions. The woman did not appear to be conscious. The other family members, which included two children appear to be in good health.
We are still waiting for an official word from the OPP and will be providing more information as soon as it becomes available.