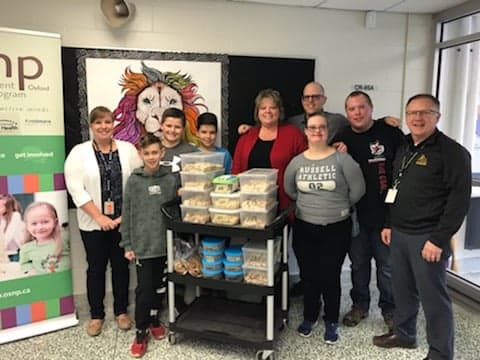 (submitted)
Oliver Stephens Public School has partnered up with South Public Health and Taste of Woodstock Catering to deliver healthy snacks to their students.
WOODSTOCK - Students at Oliver Stephens Public School are serving healthy snacks to classrooms.
The local public school has partnered up with Southwestern Public Health and Taste of Woodstock Catering to deliver healthy snacks to their students.
The food is served to 250 children, prepared by the local catering group.
Taste of Woodstock Coordinator, Diana Janssen says the recipes are packed with nutrients.
"The Canada Food Guide has changed, but we're still going on the other one, but we do fruits and vegetables, our dairy, all kinds of things that are very nutritional for the kids. We have recipes that we've traded with other people doing the snack program in other schools, so that's also good for them too."
Principal Jim Rivard says the food benefits the children's studies and overall health.
"I think it's pivotally important for academics but also for just who we are. We know that if we're a hungry student, or a hungry individual, our moods change, our sugar levels change and even our interactions between each other changes if we're not well fed or don't have healthy nutrition. This program provides everybody with the opportunity for healthy nutrition, whether they have it at home or not, so it makes a significant difference in the way students interact with each other and with the way they interact with education."
The kids will eat muffins with whole grain flour, fruit and yogurt parfaits and more. The food is served to classrooms five days per week.
The Taste of Woodstock prepares and caters the food, which is a social enterprise created by the Woodstock and District Developmental Services.
Southwestern Public Health's student nutrition program coordinator brought the school and WDDS together over the summer. The coordinator then developed a menu that met the student nutrition program guidelines with snacks that are typically enjoyed by children in the student nutrition programs.
The program was funded by various organizations, including United Way Oxford, the Ministry of Child and Youth Services, President's Choice Children's Charity and others.
Rivard says he's hoping this program not only motivates the students to continue in their education but also give them the ability to help others.
"I really want to see that they have the heads up or the leg up to be able to continue on in their education, whatever that may be. And also to provide students with the ability to be empowered to do things for others. What I like about this program, the way it is, is that we're able to use WDDS, the caterers there, and use their strengths and their talents to be able to help us do these things so that we can then empower our students to their talents in the future."