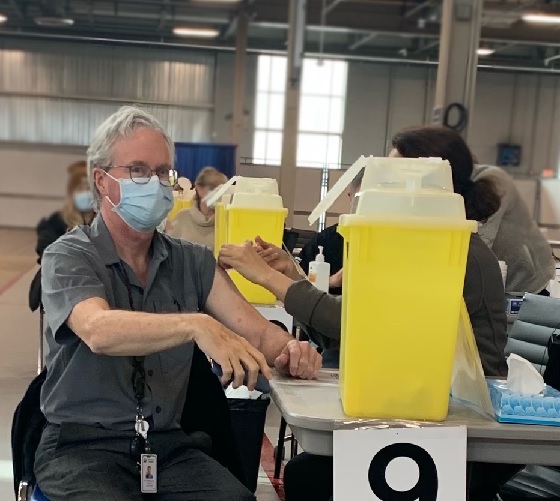 Starting tomorrow local seniors who were born in 1941 or before and Indigenous adults 55 and older can book an appointment to get vaccinated in London. They will start booking for the Woodstock clinic next week.
UPDATE: The COVID-19 vaccination clinic at the Western Fair Agriplex this weekend for seniors 80 and over and Indigenous adults 55 and over is completely booked. They had over 5,000 bookings done in just under 2 hours.
---
OXFORD COUNTY - Southwestern Public Health and Huron Public Health are expanding eligibility for Phase one COVID-19 vaccinations to seniors over 80, born in 1941 or earlier and Indigenous adults, 55 and older.
Local Medical Officer of Health Dr. Joyce Lock says an increased vaccine supply in the region, means they can start giving out more shots.
"With the addition of these priority groups, we are making significant progress on Phase One vaccinations in our communities."
Healthcare workers in provincially-prioritized groups will also be able to start getting their first dose of
COVID-19 vaccine. Among the groups now eligible to receive the vaccine are:
- Staff and essential caregivers in long-term care homes, high-risk retirement homes and First Nations elder care homes, and any residents of these settings that have not yet received a first dose of vaccine.
- Alternative level of care patients in hospitals who have a confirmed admission to a long-term care home, retirement home or other congregate care home for seniors.
- Hospital and acute care healthcare workers in frontline roles with COVID-19 patients and/or with a high-risk of exposure to COVID-19.
- Patient-facing healthcare workers involved in the COVID-19 response.
- Medical First Responders (ORNGE, paramedics, firefighters providing medical first response).
- Patient-facing community healthcare workers serving specialized populations.
- Residents and staff in other congregate care settings for seniors, including assisted living facilities.
- Frontline healthcare workers working in hospital inpatient settings and hospital procedural areas, including surgical care, obstetrics, endoscopy, operating rooms, dialysis, imaging, chemotherapy, and radiotherapy. Other ambulatory and out-patient care areas are not included at this time.
Local clinics for the Southwestern Public Health Region will open the week of March 15th. Booking details will be shared the week of March 8th.
Seniors 80 and over and Indigenous adults over 55 can book an appointment starting on March 2nd to get vaccinated at the Western Fair Agriplex by calling 226-289-3560.
Appointments at the Agriplex are limited to March 6-8 only, as vaccine supply remains low.