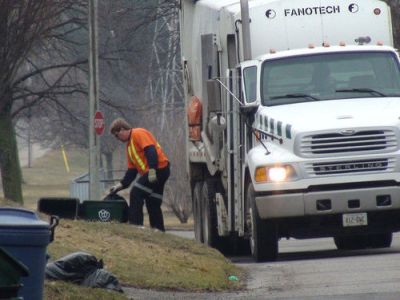 stock photo
At last night's meeting, council confirmed that they will maintain their weekly garbage two stream collection and recycling every two weeks.
WOODSTOCK - Woodstock City council will not make any changes to their garbage or recycling system in the Friendly City right now.
They will continue with their weekly garbage and bi-weekly two stream collection and recycling after learning about the province's changes to the Ontario Blue Box program.
Deputy Mayor Jerry Acchione says they'll expect more information to be delivered from the province.
"Right now instead of making a temporary change for a short term, we're better off in our opinion, as stated tonight, that will keep it status quo and keep it the way people are familiar with and no changes until we have to and know exactly what's going to happen."
He says once they learn more information, it will benefit both residents and the environment.
"We're better off to kind of hold off and find out what's going to come down the line roughly in a year and who knows what recycling is going change I think, here in the province anyways."
Deputy Mayor Acchione adds there will be no additional costs to residents.
The provincial government is planning to transition from the Blue Box program to an Extended Producer Responsibility (ERP), which could come as early as 2023. Council's report says the ERP system would place responsibility on the producers for all costs associated with residential recycling and processing services.
The report adds the two stream system will reduce recycling processing costs substantially and ensure maximum potential revenue from recyclables.
He adds staff has been directed to come up with options for waste and recycling collection systems after more information from the province becomes available. They're expected to come back to council with a report next fall.