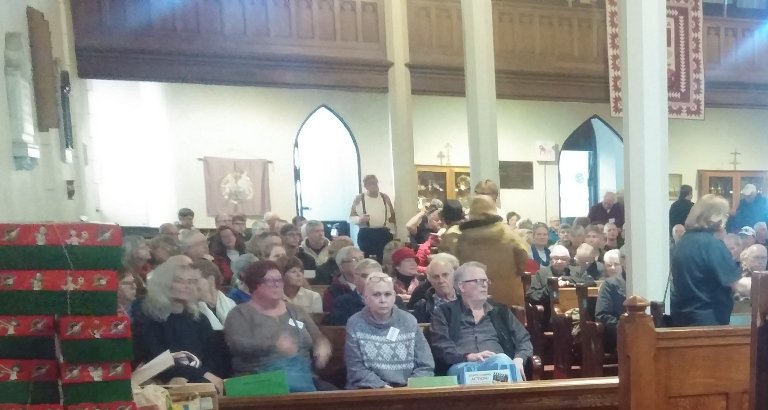 Nearly 200 people came out to the Stomp The Dump rally in Ingersoll on Sunday.
INGERSOLL - Hundreds of people came out to the Stomp the Dump Rally in Ingersoll.
The rally was held on Sunday at the Anglican Church to show a united front of local residents who do not want to see a mega landfill moving into the Ingersoll area. OPAL Alliance Chair Bryan Smith explains why they hosted this rally.
"We are holding the rally for a couple of reasons, the principle one is that we think the Government is ready to move ahead on a law that would allow municipalities enable communities to have the say about major projects. To approve them if they are a project they want or to say not them if they are a project they don't want. In the case of the landfill, we clearly don't want it, our community has said that and will continue to say that but we want the Government to embed that in law. We want them to understand that communities really know where they live, value where they live and should be able to plan the future of where they live."
Smith says having nearly 200 people show up to the rally was a huge success. He explains the next steps for OPAL and others trying to block the dump.
"We are working with this process and we are also heavily engaged on that's around the environmental assessment as well and it is our view that the science has to be done well and by reputable scientists and has to be presented to the public so that the public can look at that and judge it in terms of it's impact on themselves."
The crowd heard from 8 speakers which included local politicians and residents who are committed to stopping the dump from moving into town.