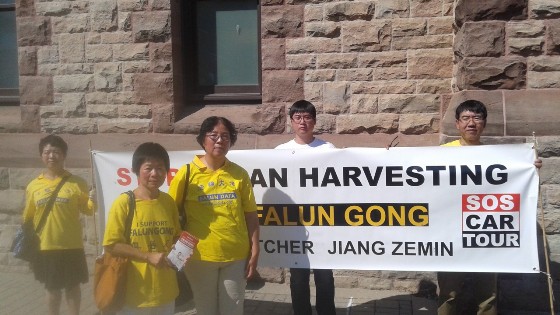 City Hall in Woodstock was the site of a protest aimed to raise awareness about an ugly situation happening in China.
WOODSTOCK - A group of volunteers from Toronto were protesting in front of City Hall today to raise awareness about Falun Gong.
They allege the Chinese Government has been trying to eradicate people in China who practise Falun Gong. They say Falun Gong members in China are taken into detention camps and abused, raped and tortured and in some cases their organs are harvested. Yi Wang has family who survived the detention camps and through a translator explains some of the conditions her sister went through.
"My sister and my niece got arrested right away for practising Falun Gong, it was in the winter and she was told to take off all her clothes, accept one sweater and she was tied outside to a tree. Afterwards they shackled my sister and her hands were tied to the ceiling of the prison, it was really high and she was hung there for two whole days."
The group was collecting signatures for a petition they are taking to MP Dave MacKenzie's office in hopes that he will bring up the issue in the legislature. They are also asking people to research Falun Gong and the prosecution happening in China. Their goal is to get the Canadian Government to stand up for human rights and basically call out the Chinese Government for their actions.