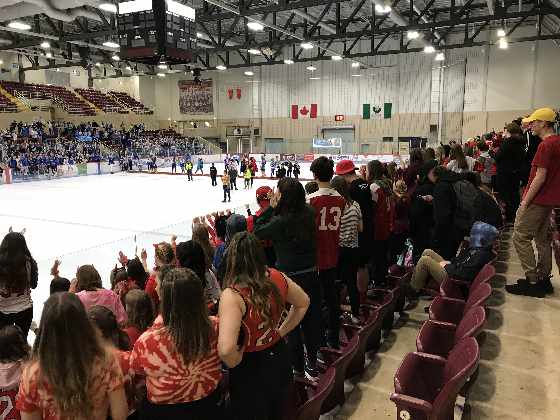 IDCI reclaimed their title from WCI in this year's United Way Stair Climb, which brought in over $36,000.
WOODSTOCK - United Way's Stair Climb was held at the Woodstock Community Complex once again this year.
The students who went were all very excited to be there and to have a friendly competition between themselves to win the Stair Climb Trophy by raising the most money and winning games within the event like Turkey Bowling.
This year the trophy went back to IDCI after losing it to WCI last year and ending IDCI's 14-year win streak.
A local WCI student Josh Dowling explains how he felt about the loss.
"It went well, we didn't have as much spirit as we could have but hopefully next year the grade 9, 10, and 11's, will learn from that and bring it next year but we did pretty well for being a small school, next year the grade 11's got to promote it better and raise more money because it's all going to a good cause."
This is Stair Climb's 16th year as an event and Resource Development Coordinator for United Way Oxford Mike Crabbe says their goal is to encourage the kids to contribute to the cause themselves so they understand that they can help.
"This year we are very happy to say that six schools from Oxford County brought in over $36,000 for this year's Stair climb, and we are happy to say that it appears this is the best turn out that we've had because the schools brought considerably more buses then years past so were very happy we had as many people as we did and when we got everyone here it's amazing to feel all the energy everyone brings the school spirit and some kind of competitiveness between the schools and we get everyone on the ice and play some games with them before we start the climb."
Crabbe adds the actual point of the event is to have the students work together to bring in the most donations and to see they can make a difference.
"So we invite all of the highschools from Oxford County together and encourage each of the students to fundraise brings all the money in and become the top earning school so they have to work together to compete with the other schools and this year IDCI won the trophy back from WCI so we're excited to see what kind of competitiveness that brings next year."
Last year's competition saw the students raise over $50,000 and everyone hopes to leap over that number next year and to have even more screaming teenagers join together to help United Way.