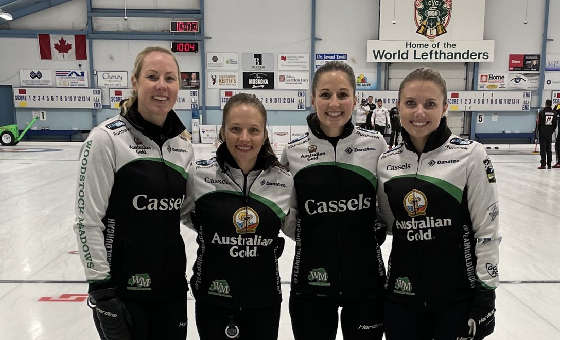 Team Duncan won the Stu Sells Oakville Tankard over the weekend and they're now preparing for the Olympic qualifiers in Nova Scotia next month.
WOODSTOCK - Team Duncan, representing the Woodstock Curling Club has their sites set on the Scotties and the Olympics this year.
They won the Stu Sells Oakville Tankard over the weekend. The Duncan rink features skip Hollie Duncan, Megan Balsdon, Rachelle Strybosch and Tess Bobbie. Second Rachelle Strybosch is the only member actually from Woodstock.
Strybosch has been a member of the Woodstock Curling Club for the past 20 years and will be playing in the ladies league again this year. She will also be competing in a league in Toronto with Team Duncan. Strybosch is a big supporter of the local Woodstock club and urges everyone to get out and sign up this year and learn the great game of curling.
Strybosch says it was a real thrill to beat Jennifer Jones over the weekend.
"I don't think I have ever beat Jennifer Jones, so that was a big game for us. We went 3-1 in the round robin and then we faced Jones in the semi finals. We played her twice before and lost both times in an extra end, so we knew if we played well, we could win."
Strybosch says this was the first big event of the season.
"It is just one spiel out of 6 that we are playing in, so to come out strong in the first one of the season, it was a confidence boost for sure and it got us real excited for the rest of the season ahead."
She says the team has some lofty goals this season.
"We have two separate goals, the first one is, we qualified for the Olympic pre-trials a month ago, so we are looking to do well there, hopefully get one of the top two spots and make it to the Olympic trials. Our second goal is to represent Ontario at the Scotty Tournament of Hearts. We will need to qualify for Provincials first to accomplish that goal."
The next big event for Team Duncan is the Olympic qualifiers happening next month in Liverpool Nova Scotia starting October 25.