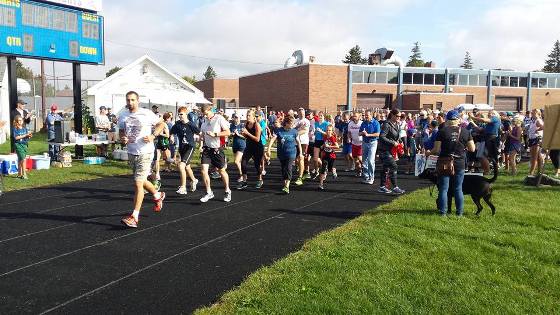 Stock photo
It's all happening on Sunday September 15th at the College Avenue Secondary School. Registration starts at 9:00 am on the day of the run and you can register online now.
WOODSTOCK - The Terry Fox Run is happening in Woodstock on Sunday the 15th at College Avenue Secondary School.
Organizer John Versaevel says registration starts at 9:00 am and they will have plenty of other stuff going on as well.
"The opening ceremonies and run start around 10:00 a.m. when you walk into CASS, you will see a number of tents set up with registration, dedication table, recognition table, maps and new this year is there is going to be a little play zone for the kids with drawing activities, games and plenty of fun things for the kids to do when they are done their run. We will have a BBQ set up for everyone after the race, it's going to be a great day. You can walk it, you can run it, it's called a run but you don't have to run."
The last couple of years the event has raised over $25,000 and they are hoping to reach $30,000 this year. Versaevel says they have plenty of routes to choose from this year starting at CASS and going through Southside Park.
"For anyone who doesn't want to do the hills, we have a route set up without hills. You can do any route you want, we have a 2.5 km run for anyone who doesn't want to do the 5 km. The 5 km run does take you all the way through Southside Park, which is a nice scenic run, you are on either side of the creek going in and going back."
Versaevel explains why he continues to support this run, along with a team of amazing volunteers.
"One keeping Terry Fox's legacy alive. Terry was and is an iconic figure in Canada history, Terry came to Woodstock. Obviously Terry's quest was about raising funds for cancer research and they have done amazing work in that regard over the years. So anything that helps with cancer research will help the people that all of us know in Woodstock and all of those people in our lives who have gone through a battle with cancer and fortunately with the research that has been done, more people can live cancer and have survived cancer, than when Terry first ran 39 years ago."
Every dollar raised goes directly to the Terry Fox Foundation. You can find more information and register online today here.