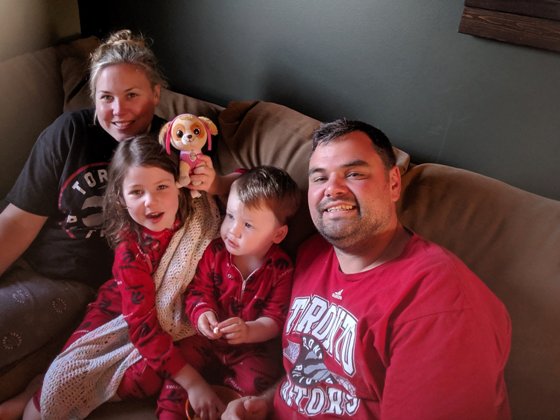 Parenting expert says go ahead, let your kids stay up late to watch the Raptors and build some lasting family memories.
WOODSTOCK - The Toronto Raptors game tonight in Oakland doesn't start until 9:00 pm and it is causing a big conundrum for parents across the Country, including Oxford County.
The question is, should we be letting our kids stay up late to watch the games. Alyson Schafer who is a family counsellor, author and internationally acclaimed parenting expert, says if your on the fence, go for it and make a lasting memory with your family.
"I am of the mind that parents know their kids best, they know how old they are and if they can handle a lack of sleep, or if they have a big test the next morning but if you are on the fence, I think their is a real benefit to making an exception to the family routine for historic moments like this and it is historic, especially if you have been following the team, have been following the series and know how important this is."
Schafer says moments like this, cause people to come together as a community.
"I think that feeling of togetherness is really lacking in children's lives these days. We have a huge issue with isolation and loneliness, so to feel like you are coming together with your family, cheering together for your team, watching the people at Jurassic Park and literally across Canada, there is a feeling of pandemonium, National pride is happening right now and for those reasons I think this is a wonderful childhood experience, even if it means sleeping in the next day, or not having the brightest eyes the next day at school, if you can make it work, I think it makes for a wonderful memory and experience for a child."
Schafer goes on to say that when you think about what you remember as a kid, it really is the special memories that stand out and that is why it is ok to break up your normal night time routine for these for historic or really special moments.
"Even special events like maybe grandma is flying in for a visit and her flight doesn't arrive until 10:00 pm at night, ask them would you like to stay up late and say hi to grandma when she comes. A child hears that you are honouring, that this is something important and they really appreciate it, not being told to do the same old, same old and that there can be exceptions to the rule and I think that is very human."
Liz Wismer Van Meer and her family from Woodstock are huge Raptors fans and they have been facing this conundrum during the playoffs. Her 10 year old son is really into basketball and has been watching the games with his father since he was a baby. Wismer Van Meer says they have been letting him stay up late to watch the games and she doesn't regret it.
"I can remember watching both the 92 and 93 World Series Championships for the Jays when I was a kid and my son, even though he is only 10, he remembers the past Raptors playoff runs. He still goes on about the game 7 buzzer beater being the first time that happening in NBA history, we are still talking about the game 6 win over the Bucks. It always makes for great conversation at the breakfast table the next day, he doesn't always stay up to the end of the game and that's fine, we watch the highlights the next day and once we get a little bit deeper in the finals and the games become even more important, he will definitely be staying up for those."