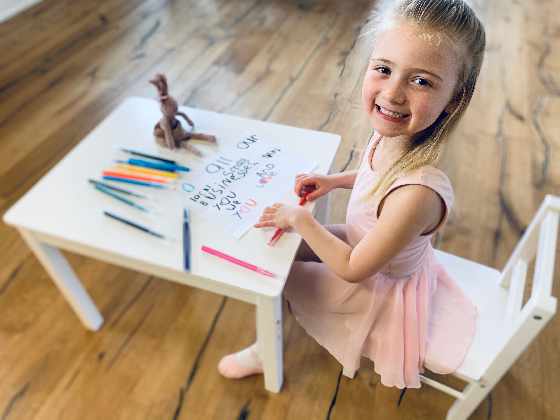 Submitted
The latest challenge in the Woodstock School of Dance and Yoga's initiative sees kids thanking local small businesses in the community.
WOODSTOCK - The Woodstock School of Dance and Yoga has been doing a kindness challenge.
The challenge started in March, which is geared towards kids to create more positivity online amid the COVID-19 pandemic.
Owner Allison Drost says they have seen submissions from 150 to 200 kids so far.
"So we've asked several things of the kids, like writing letters to various residents in retirement homes to drawing pictures and thank you notes to our frontline workers and our medical staff."
She says they post the challenges every couple of weeks and then send the creations the kids come up with off to their respective places.
Drost adds they've got a lot of positive responses from the Woodstock Hospital and various retirement homes.
Their newest challenge has the kids thanking the local small businesses in the community.
She says they'll plan to keep doing these challenges as long as the community needs it and until classes resume.
"We are hoping to resume sooner rather than later, especially because it's our recital season so we hope to put some form of recital together for our students, in some sort of means. We don't know what that looks like quite yet but this is kind of our way of giving back to the community while we can't dance together."
Drost adds she hopes kids in the community come to the understanding that a positive mindset gives you power over your circumstances rather than your circumstances having power over you.
And while kids are displaying acts of kindness, she says she hopes this message will resonate with them when they're faced with tough times in the future, remembering that even if they cannot continue to do the things they love or see the people they love that they can still be kind to each other and have a positive impact on their communities.
Anyone is allowed to participate in the kindness challenge and if you are interested in participating, you can follow the Woodstock School of Dance and Yoga on Facebook or on Instagram.
All photos are submitted by the Woodstock School of Dance and Yoga.