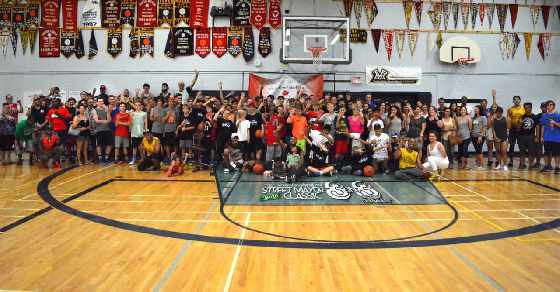 Stock photo
College Avenue Secondary School will play host to an upcoming basketball tournament, beginning next Friday.
WOODSTOCK - The Street Mayor Classic is back in the Friendly City.
The 3-on-3 basketball tournament will happen next week at College Avenue Secondary School.
Organizer Kurke White AKA the Street Mayor says they originally started this initiative for the kids in the community.
"We started seven years ago when there was a teacher's strike, so we decided to do something for the kids, for the community, for us a couple of guys that went to these schools. So we started this basketball tournament, 3-on-3, it started off with one team, the Chill Team, it was 18 kids, 17 kids and now it's grown to about 150-160 people. So it's pretty amazing, great event. We give away prizes, we give away TV's, we give away a whole bunch of stuff so we're just doing it for the kids."
Organizer Duane Thomas says the tournament will feature an All -Star game for senior players this year. It's called the Seniors Star Challenge.
"This year we decided to switch up things for the seniors and give them kind of like a showcase, so we selected a group of kids and we're going to do the draft. So we're going to flip a coin, between Kurke and myself, and pick the kids."
The students were drafted by both Thomas and White and they were from Woodstock and London.
The tournament features teams of 3 to 4 players, both boys and girls from Grades 7-12, competing in multiple divisions to compete for the SMC7 championships.
You can register online and the registration fee is $30.00 per player. The money is due on the day of the tournament. It is open for the public as families and friends are invited to watch and even participate in the half-time show.
The Street Mayor Classic goes from June 7 to 8th.