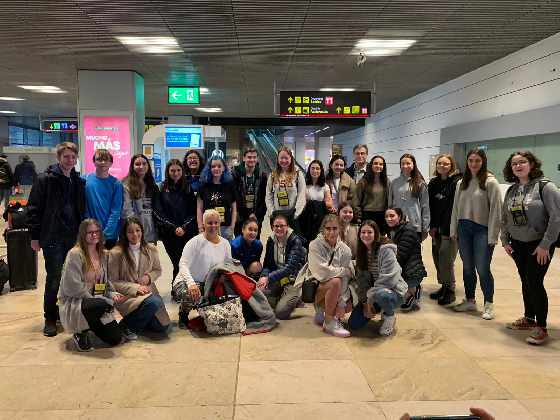 Submitted
Three people from around Oxford County were among the 106 students who travelled throughout Europe, during a recent exchange program from International Student Exchanges Ontario.
OXFORD COUNTY - Three students from Oxford County came back from a recent trip from Europe.
International Student Exchanges Ontario organized the trip.
Exchange Support Manager Bryan Smith says they went to multiple countries.
"We took all of the kids whether or not they were staying in France because they were some German and Italian destination students as well, we took them all to a castle outside of Paris that's an absolutely beautiful castle and the grounds are done by a landscape architect. And inside of that castle is the second largest collection of art, and it's largely undiscovered so you can stand and gawk in front of a painting or a sculpture for as long as you want."
He adds they took another group to Switzerland the next day and took another group to Spain the following day.
Smith says 106 students were on one plane with eight adults, who served as chaperones.
With three of the students coming from various parts in the County, Smith says there are three potential applicants for the bursary that the County offers to students. He says they go and do an exchange and come back with ideas around economic, environmental or sustainability and then share them with community groups.
He says there are spots still available for a shorter summer exchange program.
"We're currently doing the intake for a shorter summer exchange as I mentioned briefly, and as well for being somebody who would host somebody coming here from Europe in the fall. So if kids want to do that, they're welcome to contact me via my phone number which is 519-456-5270."
ISE Ontario is a non-profit that matches students living in Ontario with students in five European countries based on their interests and activities.
He adds you may also visit the ISE website.