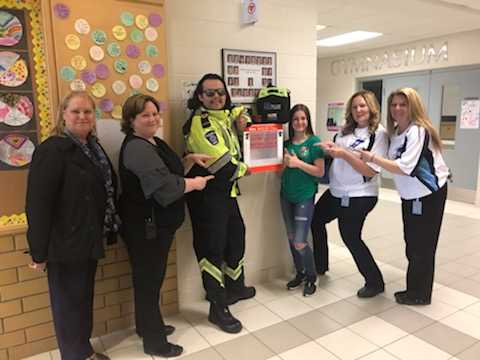 file photo
When Andrew's Legacy started, one of their goals was to have an AED inside every school in the TVDSB and that dream is about to become a reality.
OXFORD COUNTY - The Thames Valley District School Board has agreed to place AED's inside every single school in the region.
During their budget meeting on Tuesday night, trustee's voted to fund the remaining 42 schools who do not have AED's. This is music to the ears of Andrew's Legacy.
Andrew's Legacy started after the sudden passing of 15 year old Andrew Stoddart. He passed away playing soccer at a field in Kintore. Andrew was a top notch athlete and it is believed that an AED may have saved his life.
His mother Cara Schmidt started Andrew's Legacy following his passing and has made it her mission to get every sports field and school equipped with these live saving devices. Schmidt explains her reaction when she found out that the TVSDB was going to make sure that every school had an AED.
"It was an amazing night, I had just finished bible study with my friends. It was just the highlight of my evening, just to know that the rest of the schools will have an AED and just to know that it was coming to an end and we had done something worthwhile in Andrew's name."
Schmidt has installed AED's all across the Province since the organization started in 2016.
"On Wednesday, I dropped off the last 3 AED's to the school board that will finish off the Oxford County schools. That was something we really wanted to do and we had money raised from the Century 21 Golden Gala. To date, Andrew's Legacy alone has donated 57 AED's in the community at soccer fields, schools, baseball diamonds, parks and through other organizations, the number is huge. It is phenomenal how many AED's have been installed after hearing our story."
The TVDSB has 167 schools, none of them had AED's before Andrew's Legacy. Schmidt says despite the recent success, they are not done.
"We are moving forward and we actually working on another donation to the splash pad in Thamesford and their will be lot's more AED's being installed in our community."