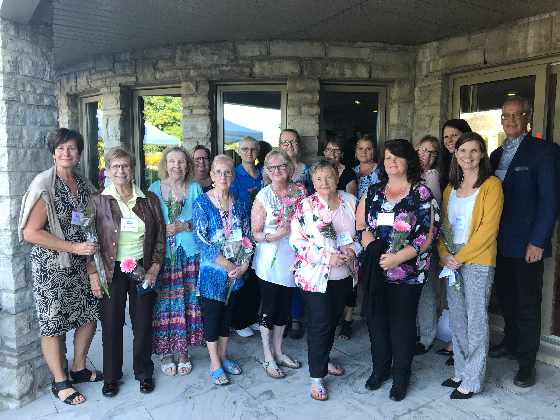 Sakura 10 Year Anniversary (submitted)
Staff, volunteers and donors were at the VON Sakura house to commemorate ten years in the community. They were honoured for their 10 years of contributions through a special recognition ceremony yesterday.
WOODSTOCK - The VON Sakura House celebrated its ten year anniversary.
Staff, volunteers and board members were on hand at the facility for yesterday's event.
Manager, Fund Development Trish Gergich says it was important to celebrate this milestone.
"What it means for citizens of Oxford County is that when you're facing a life-limiting illness that you can come here in your final moments and actually get the type of care that is led by our palliative care team, our nurses and our personal support workers and our volunteers and staff who are all trained to take care of individuals facing those types of illnesses. So it's kind of a warm house-like environment, we take care of you at the end of life."
Gergich adds the community is a big part of why the Sakura House exists and it was important to celebrate with them.
Staff, volunteers, donors and community partners were honoured for their 10 years of contributions through a special recognition ceremony.
This year's theme was "10 years of caring" and it was chosen because it represents the caring roles the community has played to make Sakura House what it is today and will be in the future.
Gergich says they hope to continue operating the facility by raising money through different initiatives, including Handbags For Hospice.
"We would like to continue the work here so that patients can continue to come here and get the care that they need, so that will mean we continue to raise the dollars that we need on an annual basis to do that. And our community has been there for us and will continue to be there for us and we are grateful for that."
The Sakura House is a part of VON Canada, which is a non-for-profit organization and charitable home and community care organization. They're also one of over a dozen of programs delivered to the communities of Oxford County by VON Oxford.
She adds families feel very grateful for the care that is provided to their loved ones.
Over the past decade, the VON Sakura House has served over 1,543 patients and 6,172 family members. It is a ten bed residential hospice and also offer bereavement programs for children and adults in the community.
The facility opened in September of 2009.