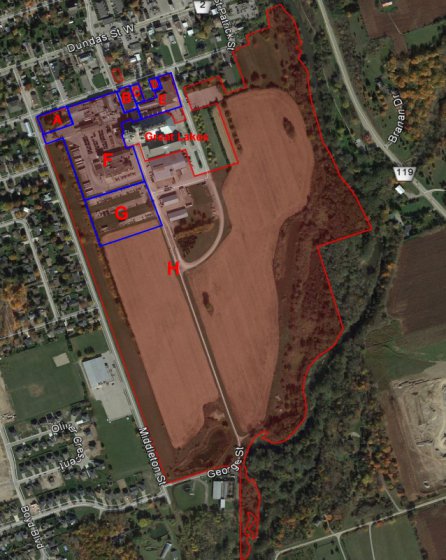 Courtesy: Zorra Township
Talks have been ongoing on the former Maple Leaf building in Thamesford, but no decision has been made.
ZORRA - The Township of Zorra is still working on potential plans for the former Maple Leaf property in Thamesford.
A decision has not been made on the redevelopment project.
Mayor Marcus Ryan says they have sent out a request for proposal to developers.
"We got proposals back from developers and then staff and council reviewed those and we're looking to see if there's a way forward with it. Almost all of that has happened in closed sessions for now because it's about property and legal matter, but we have had one public meeting on it. If it proceeds to the next stage there would be more public meetings on it then but I'm optimistic that at this point we may be able to do something in the next few months with it, only if we can minimize the risk of the Township and come out of it without owing any money or holding any industrial land."
He says some of their ideas have been passed to developers; building houses and achieving commercial development are among the goals of the Township of Zorra.
Mayor Ryan says this can be beneficial to the community.
"There's still a lot of balls in the air to try to make it happen, but if we can make it happen it could be a real step forward for Zorra and for Thamesford in particular. But also in the context of land use planning, it would be a real step forward in terms of redeveloping land existing land within village and urban built up boundaries, as opposed to taking more agricultural land out of production."
In his most recent Mayor's Blog, Mayor Ryan wrote that the only public meeting was held back on February 20th, which was to let the residents know of the current situation and hear their concerns and hopes for the project.
If council decides to move forward, a meeting will be held to hear conceptual plans before a formal public meeting to review the development.