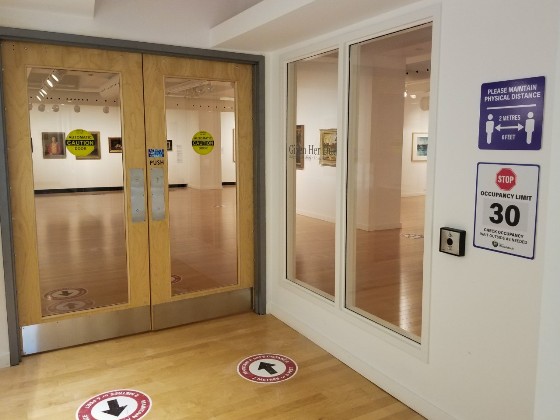 photo credit Trish Roberts, Custom Concept Photography.
The Woodstock Art Gallery is getting ready to open to the public next Tuesday August 11th with new hours and several health and safety guidelines in place.
WOODSTOCK - The Woodstock Art Gallery is getting ready to open to the public next week.
They have been closed to the public for the past four months because of the pandemic, offering virtual tours. The City of Woodstock has announced the facility will reopen on August 11, following the direction of the Province on Ontario and public health officials.
The Gallery will begin its first stage of reopening with reduced hours Tuesday to Friday from 12 p.m. to 4p.m. There will also be a special hour for seniors and patrons at risk, from 11 a.m. to 12 p.m.
Cultural Communications/Facility Rentals Coordinator Robin D'Angelis explains why they didn't reopen sooner.
"We wanted to focus on making sure we had all of the different health and safety measures in place for our staff and visitors when they come. We have been making a lot of improvements over the last couple of weeks to make sure we are ready to reopen and of course we have 3 floors of space in this building, so it does take a bit of work to make sure all of that is in place and ready for reopening."
Director/Curator Mary Reid says a number of other health and safety measures have been put in place to protect the community.
"We have installed a glass barrier at the front desk and will be going cashless for all transactions. Throughout the building, visitors will find signage to promote physical distancing, sanitizing stations and touchless accessible doors. We have also implemented enhanced levels of cleaning in high traffic areas."
Reid says current exhibitions, including Given Her Due: Oxford County Women Artists 1880-1980 and Plates of Printers, have been extended until the fall.
There will be a moratorium on gallery openings, tours and special events until further notice. This includes the cancellation of the annual Taste of Art fundraiser and the 2020/2021 See You at the Movies film season.
Summer programs and art camps have additionally been cancelled, however Reid adds the Gallery is continuing to develop virtual resources to be enjoyed from home.
"Staff have been working hard behind the scenes to create a variety of engaging online content such as art activities and virtual exhibitions, like the newly launched Visual Element 62: Annual Juried Exhibition. We are excited to further explore the digital realm as we continue on the Gallery's path to reopening."
More information about the Woodstock Art Gallery's reopening plan and virtual resources can be found at www.woodstockartgallery.ca.