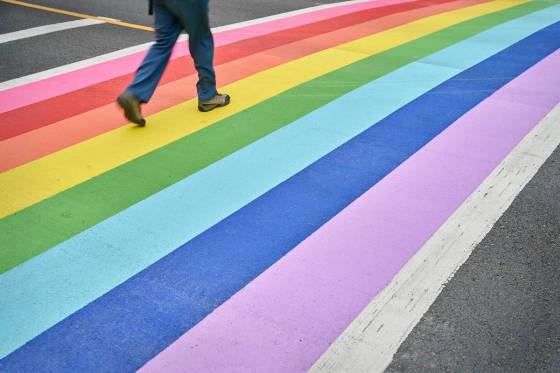 stock photo
A rainbow crosswalk will be in front of Museum Square following Woodstock City council's approval. It will be put on display during Oxford Pride Week later this year.
WOODSTOCK - Woodstock City council has given permission to Oxford County Pride Committee to paint a rainbow crosswalk outside of Museum Square.
The crosswalk will be put on display during Oxford Pride Week later this year.
President of the Oxford County Pride Committee Tami Murray says it's important get council's endorsement on the visibility and inclusion of the community.
"I think we are at a point where we've evolved as a grassroots organization to be able to be asking council and the City and actually the County for more endorsement and more support, and involving that inclusion and visibility. The rainbow sidewalks, and one of the main reasons they're developed throughout all different communities and cities is visibility and letting people know that we are a diverse and accepting community, and that we accept all."
The Committee is raising money to cover the initial cost of the paint and has received approximately $850.00 from Futures Oxford. The entire project will cost around $2,000.00 and the Committee will assist with maintenance. According to Murray's presentation, the cost can vary between $1,700.00 to $4,000 and they want to keep the cost around $2,000.00 given the size of the crosswalk.
She adds Mobile Services out of London was hired for the project.
Mayor Trevor Birtch says it's great to support this initiative in the community.
"When we have a group of volunteers like this that want to make sure that everybody feels included, coming together and finding the funds in order to do this project and finding the volunteers that'll do do the work, it gives council that assurance that the community is behind us."
The Committee also asked for community support along with council's assistance to close a street in order to complete the project.
Murray says they choose the zebra option, which is a horizontal option that goes across and there would be a break in between each colour.
The final project will feature all colours of the rainbow and also some pink and blue if there is enough room.
Murray adds they expect to start before June.