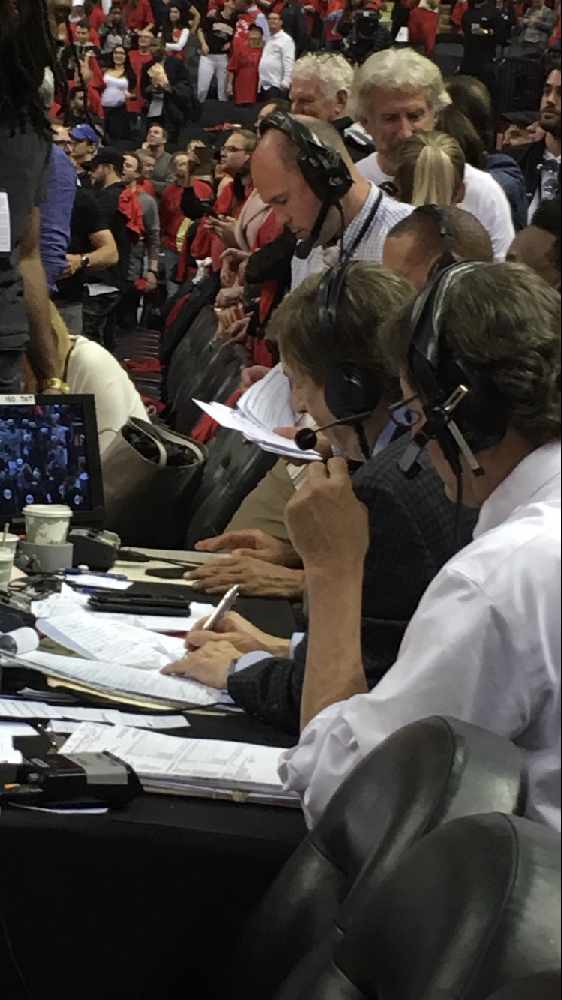 Woodstock native, Ed Hawkeswood working courtside at the NBA Finals (submitted)
Game 4 of the NBA finals goes tonight in Oakland, The Raptors won game 3, however controversy swirled around one play. Stage Manager for Live NBA Broadcasts and Woodstonian Ed Hawkeswood gives his thoughts.
WOODSTOCK - The Toronto Raptors are in Golden State for Game 4 of the NBA Finals tonight.
Stage Manager for Live NBA Broadcasts and Woodstonian Ed Hawkeswood says he thinks the Raptors can win, even if Golden State gets some of their stars back. He didn't share the same sentiment of a lot of Raptors fans who felt that game 3 was a must win without Klay Thompson playing.
"I think that Golden State is breaking down, the Raptors even though they don't use a lot of guys, they are healthier, and if this does become a war of attrition, I feel very confident that the Raptors can out last Golden State, so I didn't put that much of a premium on game 3, even though I felt like the Raptors were going to win the game on Wednesday night."
Hawkeswood says he cringed when the light fixture fell just inches away from Leo Rautins head during the Game 3 broadcast. The light fixture fell right between Rautins and the Stage Manager, which is a seat that Hawkeswood is normally sitting in, when the games are in Toronto.
"I was watching the game with my family and my wife said, that could of be you, and I sent Leo a text after it happened, to see if it was ok and he said that he was fine but it was crazy what happened, it was like an inch from his head. Maybe it is a really good thing that they are moving out of that old arena and into the new one. I mean accidents can happen but it seems absurd that in the Finals, to the visiting team, something as unsafe as that could occur but such is life."
Another controversy from last night was when the minority owner of the Golden State Warriors Billionaire Mark Stevens was ejected for pushing Kyle Lowry. Hawkeswood says Stevens is lucky that Kyle Lowry handled the situation with class and dignity.
"Mark Stevens should be ashamed of himself, he's lucky we are playing this in 2019, because if this is the 80's or the 90's, there are certain players that get pushed by him, he would be in the hospital, that is just the way it is. Kyle Lowry deserves a great deal of praise for his professionalism and composure and understanding the greater task is at hand and didn't let some cheap shot distract him from winning the game trying to win the series."
Hawkeswood says he has never seen anything like that, while sitting courtside at an NBA game.